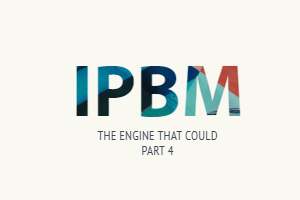 The Engine That Could: Workflow and Process Automation in IP
As part of achieving the harmonizing effect sought within an IPBM (Intellectual Property Business Management) framework, we've observed the market express a strong desire to move beyond mere data entry into something much more dynamic. In fact, there are few trends more deliberate, focused and clearly defined than pursuit of shedding the cumbersome business of data entry toward better leverage of the electronic data and metadata that swirl about the average business day-to-day. Paperless processing is a crucial goal of IPBM, and IP Management in general has long many of other legal disciplines in the maturity of processes from manual, data entry to automated process and workflow management. Workflow, or in a larger sense Business Process Management ("BPM") is the core enterprise discipline that serves as the crucial bridge between outdated ways of working and progressive business management.
The market has demonstrably progressed in the adoption of paperless (or perhaps more appropriately, "Paper-Lite") processing. Today, more than 80 percent of IP organizations report they are in the process of or have fully implemented Paper-Lite initiatives (Fig 4. below). This represents both a nearly 50 percent increase from just three years ago and demonstrates near total market penetration. And why not? A historically paper-intensive and manually driven practice, IP has long suffered from demanding price pressures and a lack of effective process support and efficiencies.
Fig. 4 Paper-Lite Adoption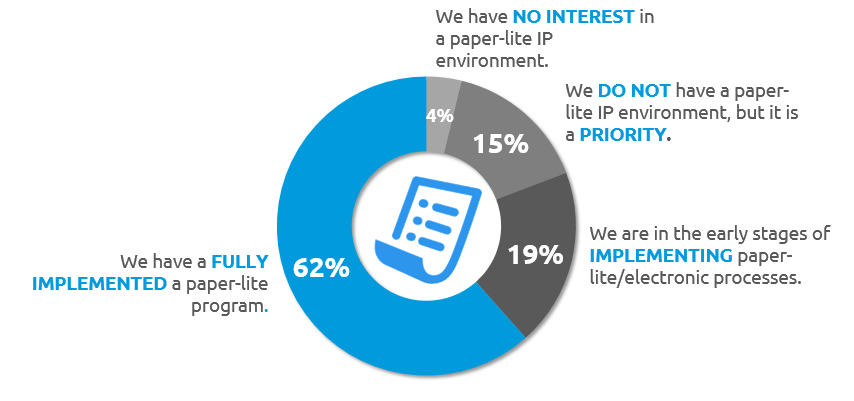 Paper-Lite processing in IP is the confluence of a number of disparate technologies and disciplines: process automation and engineering, document management, email integration, PTO data integrations and other enterprise data and records processes. Unfortunately, the maturity of paperless processing is thus also tied directly to the capabilities of the integrated technologies, and therein lies the rub. ECM integrations are the least mature area in legal technology, and though a myriad of tools are available to piecemeal various process integrations, all seek to address slivers of functional bottlenecks and none are aligned to a broader information management strategy. This is arguably the technology failure of our time, but it is certainly rooted in a pragmatic dynamic: Each independent information management discipline (e.g., IP, ECM, BPM, and the like) in fact represents distinct and separate enterprise proficiencies driven by likewise distinct and separate enterprise demands. Independently contrived, integration of these severally mature and sophisticated disciplines suffers for the lack of cross-functional understanding.
IP organizations are actively investing in workflow and automation tools and technologies. These investments are in the form of both integrated IPM point systems (whose integration of workflow technology is covered throughout this report), and standalone Business Process Management tools for administrative workflow, such as invoice approval, as well as practice-based task management, including automated and specialized docket entry. As Fig. 5 below demonstrates, the vast majority of the market has invested in workflow and automation tools to support operations. Nearly two in five IP organizations characterize their investment in workflow as "heavy," and adoption of process automation is deeply ingrained in the market with nearly 90 percent of organizations having registered these tools on their enterprise radar.
Fig 5 IPM Investment in Workflow and Automation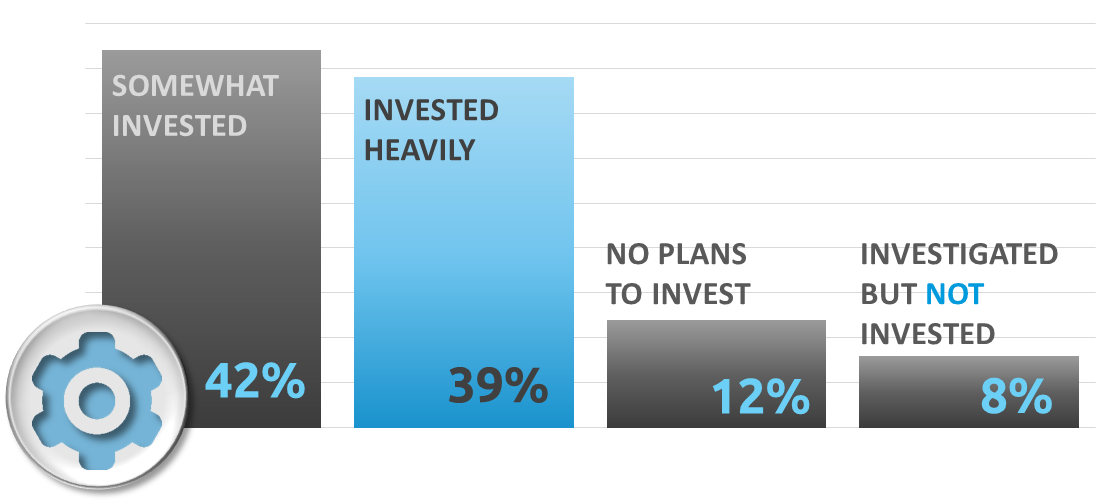 In point of fact, "Paper-Lite" initiatives, and the pursuit of integrated collaboration tools (as discussed above) have often been the major drivers of system selections in the past 12-18 months. Hyperion Research informs 8 out of every 10 IP Management system selections every year, and our solution market benchmarking demonstrates the business-related benefits driving the trends in the acquisition of workflow and automation tools. Fig. 6 below shows the overwhelming importance IP organizations place on workflow investments. Sentiments are strong and unequivocal, with Process Quality, Consistency and Productivity reported as the highest (and statistically significant) drivers.
Fig. 6 The Drivers for Investment in Workflow and Automation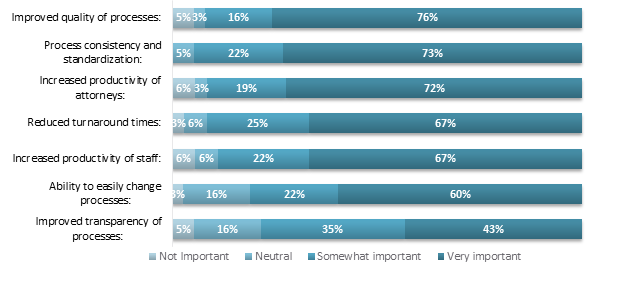 Collectively, these categories, along with the others presented, create a penumbra that can be summed up in a single word: efficiency. Efficiency, in the IPBM context, brings us back to that "operationalizing insight" motto, and the stated goal of broadening an IP operation's capabilities to align strategy, process, and organizational dynamics. Hence, a connection is drawn between the point of this next-generation IPBM paradigm and the incorporation of tight, succinctly defined uses of workflow and automation.