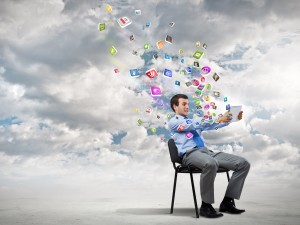 What is 'Content?' Expanding the Reach of ECM
While document management ("DM") remains a critical and high-priority solution area for legal practices, in the last two years we have observed the inauguration and embrace a critical new solution paradigm: Enterprise Content Management ("ECM"). As a term of art, ECM represents the expanding discipline of content management, one that seeks to help organizations to understand, manage and control enterprise content in the various structured and unstructured forms it may take.
Enterprise Content Management is a subset of an overall model of practice management known as Enterprise Information Management, or EIM. The EIM model addresses the processes, competencies and information architecture of a legal organization as it governs, controls and secures the enterprise-wide flow of information. Fig. 1 represents a model for EIM that is aligned to the unique requirements of the legal professional's environment.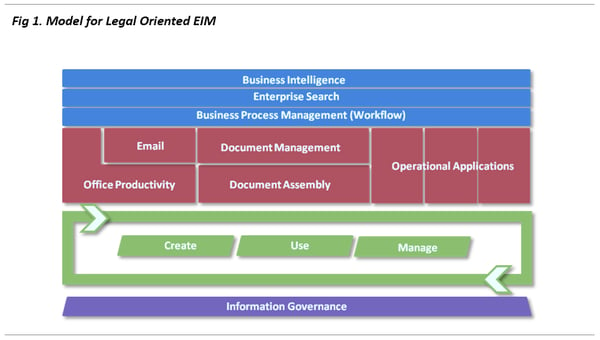 As the model demonstrates, both law firms and corporate law departments are challenged to effectively capture, store and manage their electronic information. This includes both structured and unstructured data. EIM aims to address these challenges by implementing a top-down strategy that aligns the multi-faceted ways an organization thinks about information. In this context, electronic information is treated as a valuable company asset, similar to how a business views its products, software and intellectual property.
Hyperion Research published this model in 2013 to highlight the sometimes-conflicting interests of stakeholders. Business users are often focused on front-end functional considerations, while IT tends to emphasize the underlying technical aspects related to architecture, interoperability, and governance.
What, then, is changing? For one thing, the volume of documents generated and stored within legal organizations continues to explode. CIOs, attorneys and professionals, and administrative staff now have a whole lot of moving parts to corral at once. In 2015, more than 65 percent of legal organizations reported stores in excess of 1 million documents under management (Fig. 2).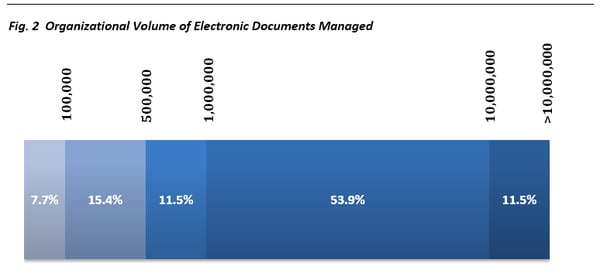 The important driver of the exponential rise in volume is the types of content in play, as well as the channels through which to share and receive content. For instance, Microsoft Outlook stands as a dominant software platform in most legal environments for both content and collaboration, and its evolution as a platform will continue to make it easier to live and work in one's e-mail inbox, driving the continuing proliferation of email content. E-mail, however, must be treated as its own form of content, one that contains many distinct and unique content objects that make it very different from other content types – body text, header fields (To, From, CC, BCC, Subject, Date Sent, Date Received), attachments, embedded graphics, footers, and the like. E-mail is not just another document category; it should not be treated as such.
Organizations, thus, are faced with crucial decisions related to content distinctions:
How to define content elements;
How best to capture those elements;
Profiling strategies that seek to define content more completely in relation to matters, clients, projects, events, and the like;
How to organize the unique nature of relational content, such as conversation threads (and their participants ;
How to implement a content-specific paradigm for access, security and control; and
How to define content control policy and retention – particularly for forms of content, such as e-mail, that by definition are expected to exist in some form outside the organization
Highlighting the growing importance of e-mail management, in particular, a number of legal ECM vendors provided evidence that e-mail volume will definitively surpass traditional documents within the next few years, and yet few organizations today have defined a content management paradigm that curates email content as anything more than .msg document types. The criticality of the issue is upon us; one service provider put the current ratio of e-mail to "traditional" documents at 40 percent and growing rapidly.
---
Additional Information
For additional information about this Insight or Hyperion Research and our Market Intelligence Programs, please complete the short form below: