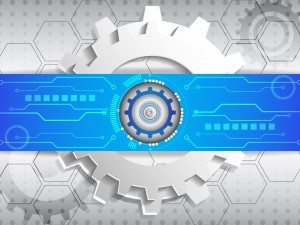 Using Content Management to Build an Enterprise Ecosystem
Closely associated with the effort to maximize ECM adoption is the desire to satisfy a growing appetite for integrations to third-party productivity and practice-management software and systems. These integrations go further than plug-ins and add-ons to Microsoft Outlook and the Microsoft Office suite – which all of the advanced ECM solution providers in this space now offer as a matter of course. The ability to drag-and-drop or profile content to the DMS through Outlook, Word and the other Office programs is no longer an alluring differentiator – it is an expected standard.
Enterprise ECM integrations required today aim to support a seamless, more automated enterprise-wide configuration that connects the major functions of the law department or law firm – including time and billing, matter management, intellectual property management, accounts payable, ethical walls, Cloud-based collaboration, and the like – with the content management system at the core.
Today, ECM solution providers actively seek to partner with legal technology vendors and offer tight integrations for seamless data and process flow — the menu of integrations for several of our advanced solution providers today number in the hundreds. The advent of innovative platform solutions, such as open-source development platforms, REST APIs and the game-changing Content Management Interoperability Services (CMIS) have introduced into legal organizations easily accessible, powerful, workflow-driven content infrastructures to help them build highly customizable and complex integrations that address their specific needs.
Representing the highest level demonstrated to date, a full 87 percent of legal organizations today report they integrate their ECM system with at least one other third-party applications (Fig. 1). Perhaps more meaningfully, though, a majority also report that these integrations support and enhance their content and process workflows – a critical endorsement of the needs surrounding the single least mature capability of ECM in legal.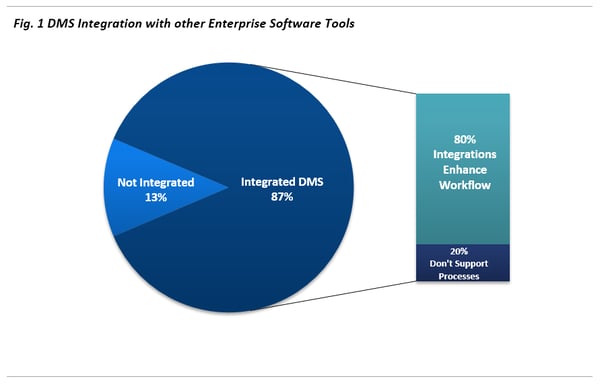 Accessing Content
Another consequence of soaring volumes: the need to ensure accurate, quick and federated access to matter and project content. While legal organizations still desire matter-centricity as an organizing principle of content management, the process of profiling and classifying documents has become more complex and potentially time-consuming.
In point of fact, document management has long served as a content management technology that sat next to the content creation technologies; using the DMS required professionals to complete their work, and then move to another system to record that they completed it. This is an unnatural human process that's been credited with long-standing adoption roadblocks.
The ability, then, to create custom fields and taxonomies, and apply them based on the dynamic profiling capabilities we can inure from existing practice management and productivity systems has become increasingly critical. The same holds for the establishment of dynamic views and access points that allow users to intuitively retrieve and track their data. The more "native" the application use paradigm, the greater the organization's ability to capture – and understand – its content universe and institutionalize its knowledge.