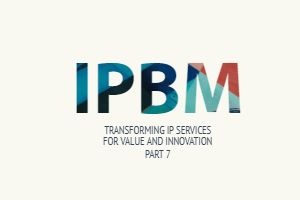 Transforming IP Services for Value and Innovation
The decision to outsource, or to perhaps insource, discrete parts to the IPM lifecycle is one of reassessing the balance of resources within an IP organization, which is a core IPBM (Intellectual Property Business Management) challenge. In particular, decisions on the use of IP services regard a company's human-capital supply chain. This is not so much about reducing head count as it is about making better and more thoughtful use of available resources.
The use of third-party IP services, whether via an LPO model or through more traditional fee-for-service models, is historically most closely associated with annuity payment services. For years now, annuity services have been critical mainstays of IP Management, as the volume of payments can be both onerous and overwhelming. Annuities are the oldest solution category in IP, and were the catalyst for IP software in the first place. Much of the development of the market for IPM software arose from the need to track annuity payments—and the vendor's unique position to provide docketing and portfolio management software as both an automation tool in support of their services as well as a value-add to bolster customer "stickiness."
Though IP software and annuity services have historically been integrated offerings, our research shows an important shift: today, only a small percentage of IP organizations—slightly more than one in ten—prefer to use the same vendor for both their software and annuity payment services (Fig. 11 below). Meanwhile, half of the market's acceptance of third-party vendors reflects a dynamic we've seen, in which frustration with high fees, a lack of transparency from the traditional annuities services providers, inflexible business models and other factors have prompted clients to seek other—and presumably better—options.
Fig. 11 Policy for Third-Party Annuity Services Providers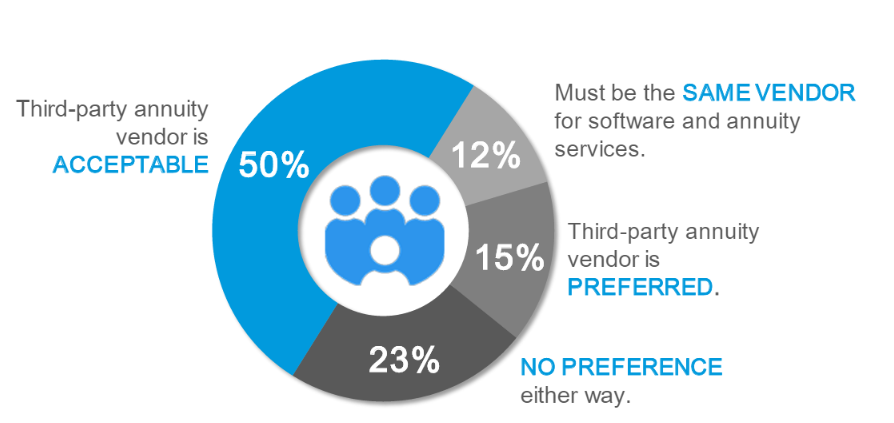 In recent years, the commoditization of annuity payment services has led to the burgeoning of third-party service providers and options to also address other "low value" or routine tasks that could be easily transferred out. These include such services as trademark renewals, docketing and paralegal services, PCT filing and document review. Demonstrating the demand for such services, worldwide annual PCT filing, to cite one example, is growing at a healthy average rate of 3.1 percent.
Fig. 12 below shows both the extent and variety of services broadly retained by IP organizations, and the evident comfort with delegating this work to third party providers. Importantly, the availability of these services for routine tasks is an important part of the resource balancing initiative, as it serves to free up valuable internal resources for more value-added work.
Fig. 12 Outsourced IP Services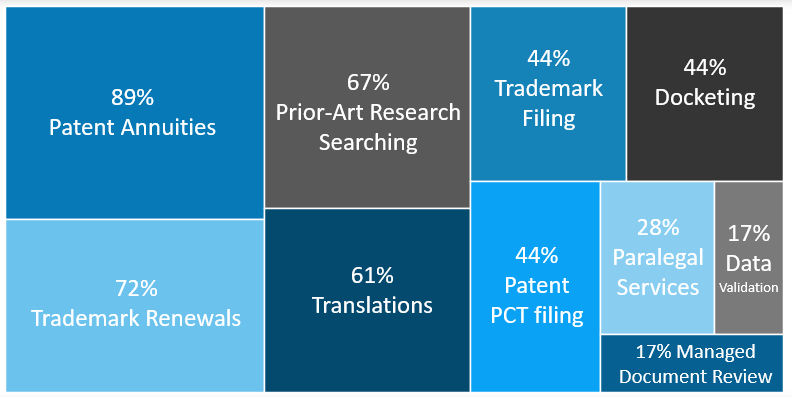 How does the market now approach the use of IP services vendors for higher-value services? Many of the services listed, including prior-art research, translations and data validation, entail a greater level of competency and sophistication to provide. And therein lies a story. Over the past couple of years, we have seen a steadfast and growing competitiveness from newer, smaller, more disruptive players in the market for IP services. Often, these companies are in a position to offer lower costs for higher value services, which in some cases bundle with annuity payment services. Munich-based IPAN, for instance, has not only innovated with a globally interconnected network for patent annuity and trademark renewal services (IPAN partners with Lecorpio, Unycom and IPfolio, three advanced solutions in this report, to drive such interconnectedness), but also offers data validation and portfolio "cleaning" services, as well as European Patent (EP) validations. Many of these disrupters are upping the ante, not only offering lower cost services derived from innovation, leverage, efficiency and resourcefulness, but also more notably changing the conversation for more sophisticated and novel solutions previously believed to be non-outsourceable. As an example, Austin-based iRunway, a wholly owned subsidiary of LPO service provider UnitedLex, offers such high-end services as product analysis and reverse engineering, the analysis of source code for evidence, patent renewal and lapse analysis, and patent licensing and monetization.
Thus, there exists a tension between the traditional model, nurtured by the large annuity service providers, and the new, innovative offerings of upstarts. How—or whether—to step into the nascent territory of the disrupters is certainly a pressing concern as solution providers old and new define the market for IPBM.