The Rising Prominence of Cloud DMS
April 20, 2015
Eyal Iffergan
Cloud, Compliance, DMS, Document Management, ECM, ELM, Enterprise Content Management, Enterprise Legal Management, Insights, Practice Management, SaaS
The use of externally hosted systems is a hot topic in today's legal technology world. Once considered a non-starter, there is an emerging openness to the use of systems and data residing outside of the traditional "behind the firewall" infrastructure model. The change in approach has followed the broader business technology trend towards more efficient and effective use of external infrastructure available through Cloud-based and SaaS systems. Document management has followed a similar course with a keen interest in law firms and corporate law departments evaluating these new models.
The policies and approaches related to Cloud-based and external systems has shifted significantly (Figure 1). While in 2011 a majority required or preferred in-house deployments (75%), updated data in late 2013 showed a rapid shift towards being either agnostic or preferring remote hosting (70%).
In discussing externally hosted applications, security is the most commonly cited consideration.
While the issue of data security and system control are important, we find that these issues are no longer a driving factor in selecting the preferred infrastructure model.
Issues of proprietary control, confidentiality and protection of trade secrets – issues not unique to intellectual property – have been largely addressed with technical, legal, and policy solutions.
In deciding whether a system should be managed internally or externally, often the more significant issue relates to the flexibility in building interfaces and sharing information between separate but related systems that are important for an integrated DMS environment. Aggregating both information and processes from different systems into the DMS can present technical challenges in an externally hosted infrastructure model. In the DMS solutions market, while vendors have made advances, important limitations exist that can challenge certain Cloud-based or SaaS solutions. We find this particularly true for larger, more sophisticated organizations that are integrating their core DMS with administrative, operational systems, and other enterprise business applications.
The remote model may also be inappropriate for certain industries that require government compliance, export control or other unique electronic data control protocols. In these circumstances, in-house deployment is often the only alternative. For less complex scenarios, where an organization is deploying their DMS solution as a stand-alone application or with limited integration points, the remote infrastructure model is a viable and attractive alternative.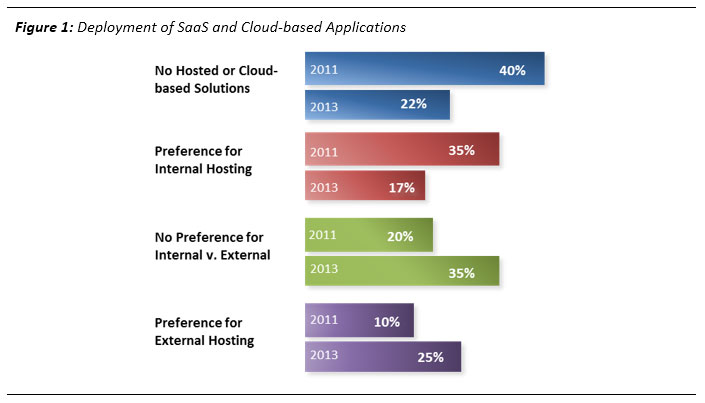 From a vendor perspective, we see an increasing move towards the external infrastructure model. The cost benefits gained from streamlined user and technical support, as well as economies of scale in infrastructure, allows vendors to offer attractive cost-benefits to their clients. While there are a few remote-only solutions, for the most part vendors continue to offer internal or external hosting as an option, including maturing models around "hybrid-cloud" solutions. Based on our discussions with vendors, we expect a continued and deliberate move towards the cloud-based solution model.
In considering externally hosted DMS, security and compliance issues are the most often cited concerns.
In our review and assessments of solution providers, however, we find that advanced solutions have largely addressed these areas up to or beyond typical IT standards. Due diligence checklists include:
Data ownership
Compliance with myriad privacy and data control standards, including unique EU requirements
SSAE 16 or ISO 27001 compliance
Monitoring and detection
Liability coverage provisions
A second unique consideration in externally hosted DMS is the ability for configuration and integration of the solution to fit within the broader legal solution environment. The nuances of various law practices and departments will dictate the extent at which this factor plays a role in the selection process. In the past, Saas or cloud-based systems offered less configurability or integration possibilities; and conversely these were considered strengths of on-premises solutions. Today, however, leading cloud-based vendors are often able to compete with traditional on-premises vendors.
Cloud-based DMS also raises considerations related to solution scalability, storage space and cost. Using subscription-based pricing models, we see cloud-based solutions offered on tiered pricing. This includes pricing inputs for modules/features, storage space and the number of users. As the solution scales, the challenge for IT managers can be assessing the cost interplay between managing the storage required for rapidly growing content volume and user needs to retain information. While traditional on premises solutions can often add additional storage capacity at a lower cost (because of the low cost of storage), new cloud-based agreements are increasingly building in greater flexibility to accommodate growth.