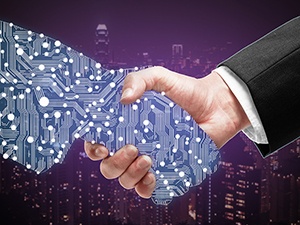 Technology + Work Culture
Today's advanced technologies are making waves as they create greater business potential for companies and their stakeholders. As they are developed and integrated into the modern workplace, they are not only impacting business in a collective sense (i.e., its ability to generate more revenue), but are also inevitably affecting business culture. We have seen how widespread consumer technologies have the potential to transform society on a number of fronts, but how do advanced business technologies affect professionals, their goals and work priorities?
Recent Hyperion Research benchmarking provides overwhelming consensus on the effects of advanced technology on work culture, showing that teams are working more remotely and professionals are seeking ways to work better, but that information workers today also demonstrate an intriguing absence of interest in personal priorities and pursuits of professional development (see Fig. 1, below).
Reinforcement of the Remote Work Trend
Hyperion Research's recent findings on workplace culture demonstrate that 30% of workers consider technology's advantages to fuel the prevailing corporate trends we see in teams working more remotely.
The advent of the remote workforce is nothing new, having been a significant corporate trend for 10 years or more. Today's work trend, however, also shows an entrenchment of the remote workforce as ever more the norm, with many corporations deliberately eschewing office-centric work toward more convenient and cost-effective arrangements. According to a recent Gallup poll, at least 37% of U.S. employees have done some work remotely, and remote work during regular business hours compared to after-hours remote work has been on the rise since 20081.
A remote workforce can be more convenient, but it's also much more cost-effective. Not only can it fuel costs savings attributed to real estate expenses (IBM cut their costs by $50 million by switching to telecommuting)2, but it has also proven to serve a desirable employee fringe benefit and reduce employee attrition. With the costs of real estate generally second on a balance sheet only to payroll, remote work environments are becoming a core business strategy for many companies.

Doing More, Being More
Today's information workers demonstrate a clear proclivity for embracing technology's impact on our ability to do more work. The preponderance of sentiment is that technology's advances will serve most to affect where we work (30%) and how fast we work (29%), but an intriguing de-prioritization of technology's potential to free us from work. Only 14% attribute technology's impact to improving work/life balance and fewer than 1 in 10 consider it a pathway to professional development.
These results demonstrate a cognitive dissonance of sorts. Though the portent of technology – and its undeniable integration into our everyday activities – has been to shift the tedious, mundane, routine and low-value work from humans to machines, the promise of that leverage – to free humans to focus on the higher value-add – seems to escape us. We've in many ways shifted contextual priorities and perhaps fallen victim to a host of unintended consequences.
Perhaps just as fascinating in these recent poll results is the subtext of denial of the benefits upon which the significant investments we make in business technology are most often predicated. The promise of "advanced technology" is so often the ease of use and reliability of 'next generation" systems, and yet in the real-world, we don't to realize them: precious few information workers feel the systems are more secure or easy enough to use to eschew reliance on cumbersome IT resources.