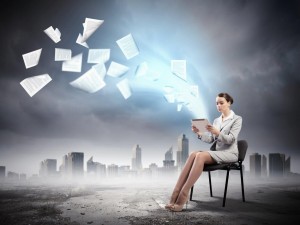 Paperless Work Environments for IPM
While historically paper-intensive, the legal profession is quickly digitizing.
Electronic-based work processes offer cost savings, improved quality and more-efficient work product. Implementing a paperless work environment is particularly important to creating an effective IP program. We find that document management systems (DMS) are an increasingly critical element in the overall integrated IPM environment.
In a recent Hyperion Research benchmarking study, we asked participants whether they have instituted a paperless environment. Fifty-seven percent (57%) either have mostly or fully instituted, or are in early stages of, a paperless environment; another 19% indicated that a paperless environment is planned or is a priority. We would expect that within 5-7 years, few IP organizations will remain without paperless (or "paper-lite") processes.
Fig. 1: Priority for Instituting a Paperless Environment for IPM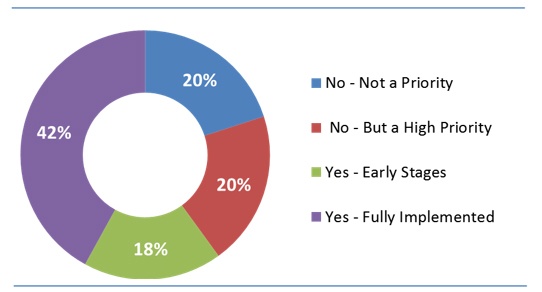 From a technology perspective, we find that companies are equally split between using their IPM system as the central document repository and using a separate third-party dedicated document management system (DMS). In the latter case, the ability to integrate their IPM system to the DMS is considered a highly valuable capability. We find that IPM solution vendors are generally taking an either/or approach such that customers may use native functionality within the system, or interface to a third-party DMS through standard APIs. Where a native electronic document module is provided, the capabilities are considered limited and not comparable to enterprise DMS. Also considered a limitation, we find that the ability to integrate with a third-party DMS is limited and difficult, and is generally not pre-developed by the IPM vendors. In some instances, we even find that DMS integration is not possible.
The adoption of document management allows an IP group to significantly reduce the amount of paper and physical file storage it uses, and to improve its work efficiency in creating, sending and archiving correspondences and work product. These advantages benefit all parts of the IPM process, particularly those where there are multiple participants and a high degree of required documentation. Importantly, historical issues of physical signature or hard-copy requirements have largely been addressed with the promulgation of electronic signature regulations.
From a functional perspective, we expect leading IPM systems to provide case-level document management. This should include any document type, particularly the ability for emails to be easily sent and received, as well as uploaded from external email clients (e.g., Outlook and Notes). Likewise, the ability to create documents from templates and standard forms, including data pulled from the case record, is a minimum standard. For retrieval, full-text searching of documents is an expected capability, with advanced search-engine technology becoming increasingly important to manage the large volume of documents. More advanced features should include associating documents at the docket task level, versioning and check in/out. We also look for notification and workflow routing of new documents as leading capabilities. Security must protect read/write access, and should allow control at the individual document level. Finally, document archiving and retrieval capabilities should comport with regulatory, discovery and legal hold compliance requirements.