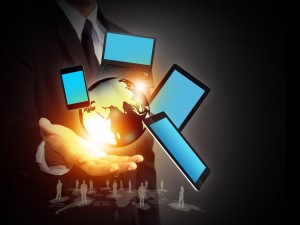 Mobility - The Next Frontier of Content Management
Smartphones and tablets are not merely the legal professional's gadgets de rigueur, but have rapidly established themselves as critical productivity tools. Legal operations managers are moving quickly to meet the needs and demands of a consistent wave of evolving and emerging mobile technologies. Mobility has been added to the landscape of legal IT solutions.
Legal professionals are always searching for ways to increase their productivity and have been quick adopters of mobile technologies. Our research shows that upwards of 91% of legal organizations support mobile devices in some way. Law firms are generally more active in adopting both smartphones and tablets (76%); while corporate law departments appear to somewhat lag in the broader adoption of mobile solutions (32% reported that they either support only BYOD, or neither smartphones or tablets.) (Figure 1).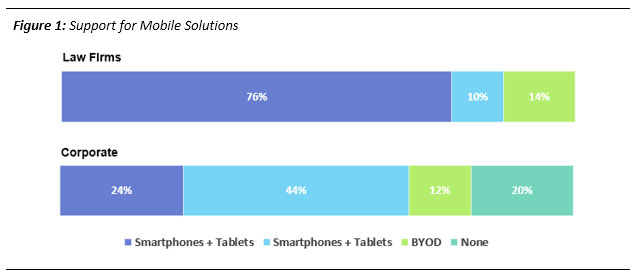 For legal organizations, however, no mobile platform has established a dominant position (Figure 2). While RIM Blackberry (yes, RIM) and Apple iOS are the predominant mobile platforms amongst our participants (73% and 70%, respectively.); other platforms such as Android (28%) and Microsoft Windows Phone (17%) are less common – though growing in device options and penetration. This distribution is largely the same between law firms and corporations. Interestingly, the support for multiple platforms is very common – most organizations support multiple devices.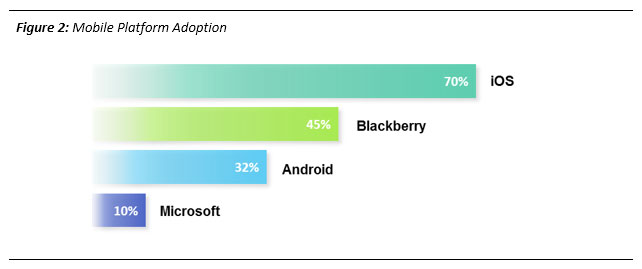 As legal professionals push for increasing access to mobile devices, IT managers face a number of issues (see Figure 3). By definition, mobile devices result in a dispersion of both information and access to critical systems. We find that the most critical issues reported by legal IT managers relate to security. While first-generation mobility (e.g., laptops and remote based PCs) proved in the 80's and 90's to be a challenge, mobile devices are a completely new ball game particularly when also considering the parallel adoption of hosted applications and other "outside the firewall" systems.
As can be common in technology evolution, hardware has currently outpaced software. We find that the availability (or lack thereof) of legal applications one of the most often cited challenges in mobility's success. From an operational perspective, both user support needs (23%) and the loss of productivity (20%) are relatively low-level challenges.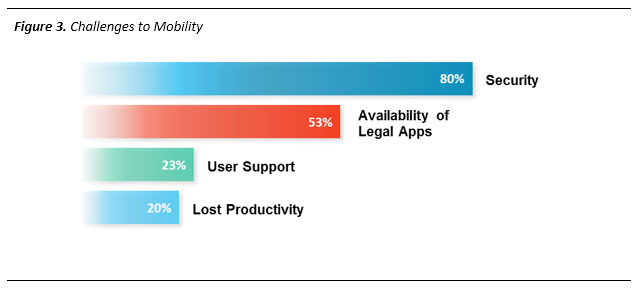 Many of the traditional product vendors have added mobility to their core product offerings. As demand for more functional requirements and increased support for newer mobile devices continues, competition has arisen amongst the available mobile applications and how they are positioned to legal users. One important point to make is that these mobile applications are still largely meant for consumption only. The lack of native editing functionality and the inability to seamlessly integrate with other third-party document authoring tools means that these mobile applications still fail to represent a functional desktop replacement.
These shortcomings, however, are acceptable due to the nature in which most legal documents are authored. The reliance upon advanced macros and form templates renders document authoring and editing on mobile devices ineffective and not desirable by most legal professionals. Therefore, the main use case for mobile applications is that of on-the-go document retrieval, management and of course, sharing and collaboration.