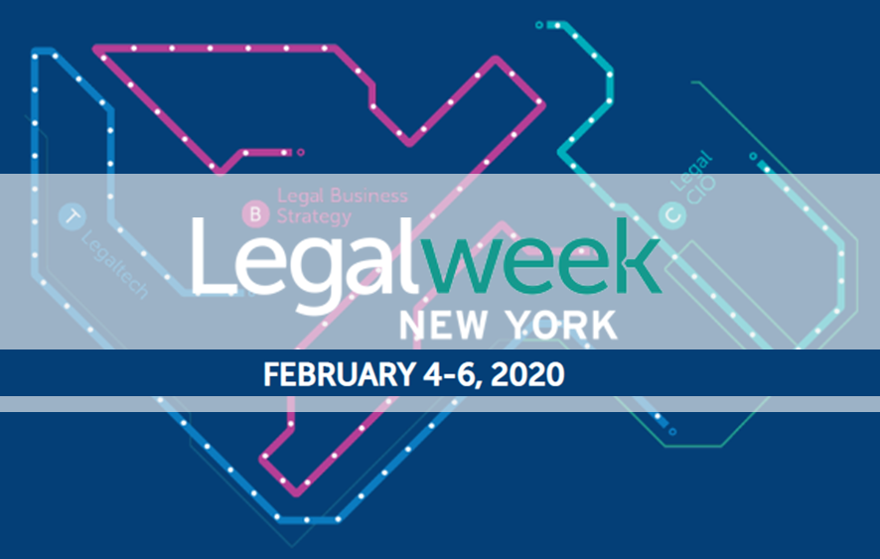 LegalWeek 2020 ROUNDUP
The Hyperion team just returned from Legalweek in New York. After attending numerous sessions, meeting with vendors for demonstrations and touring the exhibition halls, we wanted to call out several of the conference highlights and themes for our subscribers.
The first (albeit non-legal) highlight for all attendees was the weather – while a bit rainy, the nearly 50-degree temperatures were welcomed by all of the participants. This the first nice-weather Legaltech in a number of years, and for those who have struggled with sub-zero temps and deep snow at prior conferences, eliminating weather from the equation had a positive impact on travel and participant attendance at the conference, networking receptions and gatherings.

Beyond the weather, here are a few takeaways from the conference:
AI and Machine Learning Continue to Evolve into Essential Tools for Legal
The number of legal applications, platforms and tools leveraging AI and Machine Learning continues to grow at a rapid pace. AI is appearing in everything from common tools like Microsoft Office 365's compliance solutions to more specialized applications like contract management, e-discovery and patent drafting. As the technology continues to mature (despite the excitement and hype, it is still quite nascent), AI's real potential will be seen as it is continues to integrate with an ever-expanding corpus of big data to facilitate automation and informed decision making.
Data Privacy and Security Complexity Isn't Going Away
GDPR raised the privacy bar for businesses back in 2018, and, far from being the final word in the quest for data privacy, it proved to be just the first stepping stone in an ongoing journey towards greater control, transparency and complexity with managing important data. Several sessions were focused on the impact of and compliance guidelines for CCPA, California's new privacy regulation, as well as highlighting the sobering fact that nearly 70% of countries have privacy laws, and nearly a dozen states have pending laws similar to CCPA or GDPR. Combined with an explosion of cloud-based legal solutions and the stage is set for a number of serious compliance challenges. Fortunately, several sessions provided guidance on mitigating some of the risk, from adjusting contracts, to re-evaluating data collection requirements and assessing insurance coverages.
The Business Side of Legal Is Becoming Big Business
The growing importance of legal operations was obvious throughout the conference. There were numerous sessions devoted to helping legal teams not only improve their infrastructure, but also focus on the increasingly important human/delivery side of the business. While Legaltech's programming was not at the scale found at operations-focused conferences like CLOC, there were several operationally focused tracks, such as effectively managing change within a legal group, or talent management and the never-ending quest to attract and retain the best team members. Technologies supporting legal ops were a strong contingency on the exhibit floor. As legal teams are pressed for more and more productivity and accountability, the importance (and visibility) of legal operations will continue to increase. This trend represents one of the most fundamental transformations in the legal profession, as lawyers and the operations apparatus that support legal business continue to mature and define new ways of working.
###
Throughout 2020, we'll be working on a robust Research Agenda that will include an on-going schedule of insight posts, benchmarks, metrics and other empirical research to provide deeper dives and clarity on the topics above, including highlighting solution, approaches, use cases and best practices to help legal teams stay ahead of the curve. Stay tuned!