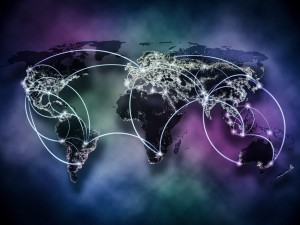 Legal Process Outsourcing for IP
Intellectual property departments are continuously evaluating their approach to outside professional services. The use of outside counsel, agents, annuity payment services, search services and other specialized expertise are all long-standing examples of outsourced professional services--and certainly are not new to most departments. However, a new service model, legal process outsourcing ("LPO"), is gaining increased traction as a more structured and comprehensive approach to intellectual property services.
While the terms "outsourcing" and "offshoring" are often used interchangeably, not all outsourcing involves offshore work delivery. As a staffing or delivery model, "offshoring" involves the use of resources from lower-cost labor markets. While early LPO efforts focused on the labor cost advantages of the offshore model, leading LPO providers today are most often using a hybrid model of local or onshore resources, together with remote or offshore resources. The goal is to optimize the work quality and cost structure to deliver the highest-value services possible.
While outsourcing is often focused on non-core, administrative or support functions, in the legal area we see LPO services also focused on higher-value professional services. The LPOs specializing in intellectual property offer a broad range of services and capabilities, primarily focused on non-legal services that do not require licensed attorneys. Common services offered by LPO providers include:
Patents, trademarks, licensing and other IPRs
Document imaging, tagging and retrieval
Prosecution docketing services
Monitoring and watch services
Drawings and illustrations
Application drafting
Prior-art research and analysis
Competitive, technical and market intelligence
Reverse engineering
Technical, non-legal opinion work
In a recent study of the LPO market that we conducted, we found that intellectual property services remain in the early adopter phase of market development. While notable successes were reported, generally clients reported that their LPO work assignments tended to be more project-oriented or one-off transactions. The more comprehensive, structured LPO relationships have not yet established themselves as a widely pursued model for most IP departments. However, we see this trend shifting as notable case studies emerge of IP law departments and law firms building outsourced resources into their IP admin and operations models. Trademarks have lead this trend, particularly where large global law firms have partnered with their corporate clients to create captive LPO organizations.
Fig. 1: What Legal Process Outsourcing Services have you used in the last 24 months?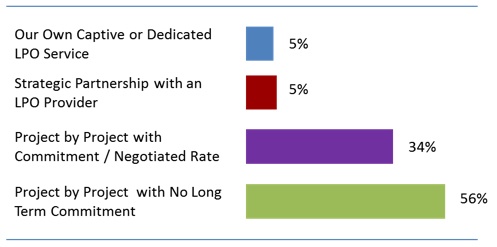 In specifically assessing the IP outsourcing market, an important consideration is the interplay between IP services and enabling technology. For example, in the well-established area of annuity-payment services, vendors have always offered a close tie-in between their services and their docketing software. Using this same model, LPO providers are now integrating the delivery of services through their proprietary IPM systems or specialized client-collaboration platforms that enable service requests, project management and work-product storage. In addition to providing a closer working relationship, the use of value-added technology by vendors is also being leveraged as a financial incentive. Software that can be used for a broad range of activities is offered at a discounted rate in order to establish long-term service commitments. This has important implications for pure-play software vendors, who may find themselves at a negotiating disadvantage versus integrated software + service offerings.