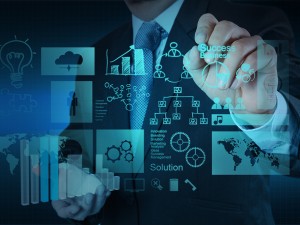 Legal Metrics: Defining Success Beyond Spend Management
Measures are a core component of holistic business management. While quantitative measures are not appropriate for all business activities, performance metrics and key performance indicators (KPIs) are an increasingly critical part of optimizing the legal function. This topic consistently arises in our annual review of law department trends.
Spend management has been a natural and obvious first focus area for law department performance reporting. In addition to budget-related benefits, law departments are now seeking to use their legal operations-related data to go beyond budgeting and costs (see Fig 1). Caseload and resource-utilization metrics, used by more than two-thirds of our participants, enable legal management to better place professional staff, as well as support decision making about outside counsel case assignments and future workload demands. Ultimately, successful outcomes determine the law department's value to the enterprise.
We find that almost a third of law departments use quality and outcomes metrics to support their management activities. These metrics serve to provide managing attorneys and their business client's insights to better understand case status and support decision-making. It is important that these levels increase in order for law departments to achieve their performance goals. Thus, the desire to make more well-informed decisions is in turn driving the development of analytics and benchmarking technologies.
In addition to spend management benefits via robust e-billing, and the data transparency and time savings that the data capture of matter management can provide, analytic offerings could very well become determinative drivers in the selection of ELM solutions.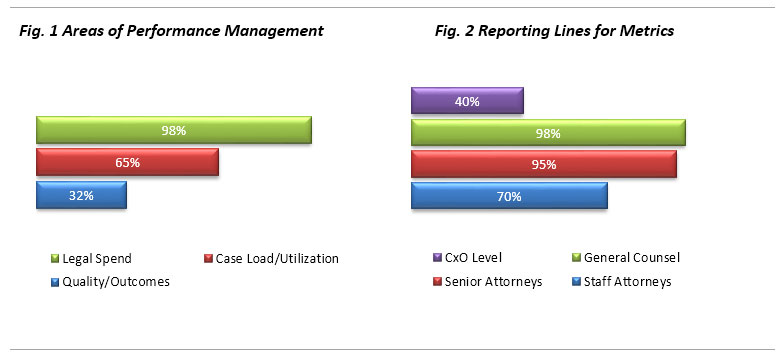 The reporting lines for legal metrics are also expanding (see Fig. 2). As legal and regulatory issues assume a more strategic position, we see legal metrics being increasingly reported to senior management. Forty percent of Global 1000 organizations say they provide legal related metrics to C-level management. We see this particularly the case in intellectual property intensive industries where portfolio reporting occupies a prominent place on meeting agendas.
From a legal operations perspective, we see all levels of counsel receiving and participating in legal metrics. Not only limited to General Counsel (98%) and Senior Attorneys (95%), even staff counsel (70%) are expected to use reporting, measures and KPIs as part of their day-to-day case management responsibilities.
While there is a focus and appreciation for the critical importance of legal metrics, we find that law departments continue to face impediments to effectively collecting, analyzing and presenting data (see Fig. 3). Law departments struggle with the requisite skills, data and tools needed for reporting. The top challenge to achieving effective reporting was the lack of well-defined metrics; together with the lack of training or skill sets, that speaks to the challenge departments are facing in understanding operational performance reporting. To address these knowledge gaps, law departments are approaching their functional colleagues for ways to develop useful metrics and KPIs. Law departments are now commonly staffing business analysts, who bring the combination of internal consulting skills with legal practice expertise.
The lack of data and tools are also critical impediments. Here, too, law departments are actively pursuing more sophisticated and capable IT resources that can assist with operational management. Given that most Global 1000 departments have addressed legal spend automation, we see a strong majority of companies we speak with use electronic billing systems as a source of metric reporting (see Fig. 4). This is positive, but at the same time reflects the condition that departments remain limited by their focus on spend-related information. As the depth and breadth of spend data grows, analysis is likewise more sophisticated. Departments are beginning to use dedicated reporting tools (45%), although more advanced business intelligence tools less so (30%). Excel, perhaps not surprising, remains the exclusive tool for almost a third of respondents. While vendors may talk up their product's ability to effect 100 percent data capture, the reality, judging from these numbers, is more daunting, and there is quite a distance to travel before near-perfect entry into ELM tools is a reality.