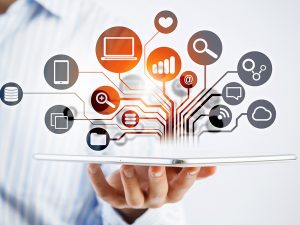 Law, Technology and the Social Network
Shopping for legal technology is often a matter of relying on the experience of others
The market for legal technologies is ever-active—and ever-expanding. Recent market data is very clear on the strong drive for investment in Cloud-based technology, workflow and automation tools, analytics and collaboration platforms. As the technologies grow ever more sophisticated to match the businesses they support, and the number of options and approaches multiply, it is more critical than ever – and the risks more pronounced than ever – that legal organizations assess their needs diligently and strive to select new and upgrade technology as thoughtfully —and with as much information—as possible.
The software selection process often means cutting through an awful lot of noise and static. Vendors promise they can change an organization's life for the better. Yet when five or six vendors—or more—are putting forth their best pitch, it can be a challenge to differentiate between them all and determine the best fit for the organization. Doing so often comes down to a reliance on outside resources to better guide an organization through the process.
With the challenge of selecting the right software in mind, we recently solicited our intrepid Hyperion Research community to tell us about the methods you find most valuable/effective for selecting new legal technology?
Their open and enthusiastic feedback revealed that in many cases, the modern selection process is a social one. In fact, a full half of our legal operations community reported Networking and Peer Referral (29 percent) or the use of Consultants (21 percent) to be most valuable sources of solution market intelligence (Fig. 1 below). Networking and Peer Referral as a category, for us, comprised four dimensions: Personal References and Networking, Internet Forums and Communities, Professional Trade Groups and Associations and Networking Conferences.
In other words, what better way to cut through vendor marketing and spin than to survey the real life experiences and judgments your friends and colleagues can share (and they love to share!) about the systems that you are now contemplating yourself? What is the chatter about one particular technology versus another?
At its most formal, this can take the form of a learned endorsement from a trade association, or a focused one-on-one meeting in a topical trade conference with a specifically selected group of vendors (also known as "speed-dating" conferences). Recently, we've observed some exciting and compelling innovation transform the speed-dating conference model by combining structured thought leadership with a highly curated attendance organized around a common purpose of system and vendor evaluation and interactive dialog.
Networking options abound in this information age, and many legal managers start simply by picking up the phone and calling a former co-worker or colleague, or engaging peers in a LinkedIn Group focused on legal technology. Either way, people seek guidance from someone they feel they can trust. For nearly 30% of the market, that carries the most weight in their selection.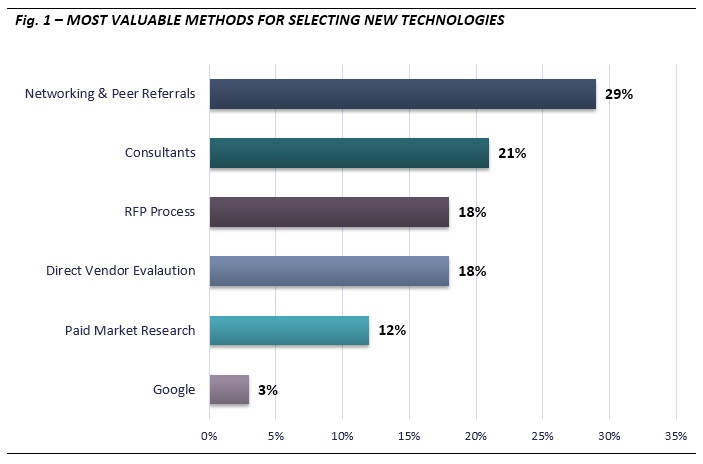 However, for another 21 percent, peer feedback and referrals are not enough; they want to draw on a more demonstrable form of expertise for which they are willing to pay. Consultancies often offer years of hands-on experience in working with specific technologies and tools. Often, they have also developed unique or proprietary methods for evaluating and selecting all manner of legal practice management and productivity systems. Organizations value the expertise when they understand the selection process represents a significant investment of resources – financial, human, time and otherwise – which must demonstrate ROI over a long period of time. What the organization is buying when it hires a consultant, then, is credibility. That trust needs to be based on several key factors: the consultant's deep understanding of the marketplace; the client's needs and goals; the consultant's ability to be independent of the vendors considered (not all are!); and the consultant's skills in organizing and leading the selection process.
We should also note that a full fifth of legal operations managers and administrators can't concede a single most effective method for technology selection. They rely on a broad mix of sources and approaches to feel "fully informed," including several or "all of the above" methods. This is, after all, not an easy process for any organization, and the level of investment involved always demands scrutiny, objectivity, defensibility and transparency. An improper selection can have far-reaching and dire consequences, for the company as well as its people. System selection is precisely the time to call upon all of your best and available resources.