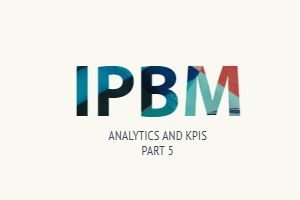 Analytics and KPIs: You Can't Master What You Don't Measure
Legal practices have matured tremendously over the last few years in their understanding, approach and use of analytics, and the hunger for more metrics, better metrics, compelling metrics and actionable metrics drives the preponderance of legal operations leading practices today.

Performance analysis, insight, stakeholder visibility and operational efficiency are the fundamental components that drive IPBM (Intellectual Property Business Management) excellence. Performance management analytics comprise the tools, capture methods, data models and visualization technologies that help legal and IP organizations focus on the operational performance metrics they need, to help them understand both the business effect of their activities – causality, impacting processes and behavior – and the corrective steps, nee actionable intelligence, they need to optimize performance and outcomes.

At the heart of this analytics surge are Key Performance Indicators (KPIs), which represent units of measurement related directly to the values and desired performance goals of the operation. KPIs, when operationalized within the business, can help staff, attorneys, management and C-level executives deliver real-time insight into current activities, guide course correction, suggest areas for process improvement and offer internal indices to adjust strategy. As KPIs can also reflect the organizational business culture of the leaders who develop them, they are core components of transformative IPBM. Organizations seek to enumerate what drives value and to create KPIs that support those drivers. Fig. 7 below demonstrates how KPIs can serve as reflections of organizational values and, as such, serve as units of actionable intelligence for both defining performance roadmaps and measuring success.


Fig. 7 Understanding the drivers of value in IPBM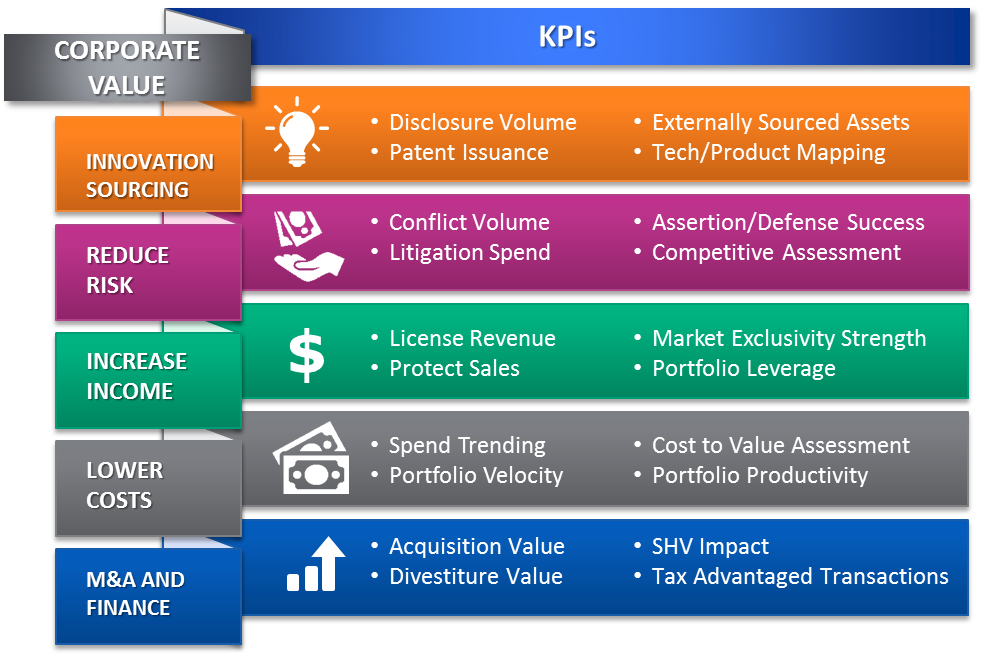 Integrated Decision-Support Analytics
Vendors understand the importance of KPIs and performance management initiatives in the modern business climate, especially in the post-2008 competitive legal business landscape. Vendors are investing, whether by their own initiative or by dramatic competitive forces, in the tools and capabilities to deliver actionable, measurable, compelling returns on every investment they ask of their clients; in turn, they also understand that the decision support features and functionality they invest in can catalyze their client relationships in this next-generation landscape.
Today, leading solution providers are focused on strategic acquisition initiatives for innovative, disruptive analytics tools. These strategies have demonstrated significant boosts to market profiles with the promise of integrated IP analytics, expanded IP lifecycle management capabilities, and an infusion of contextual analytics to bolster the tactical work processes. Meanwhile, integrated operational analytics seek to expand the IPM footprint, including budgeting and forecasting tools – grounded in legal process management – that deliver innovative and actionable fiscal and business sophistication to IP Management. All in all, these capabilities provide catalysts for expanding dynamic IPM business models and approaches – we believe they are positioned to serve as the modern-day cornerstones for data-driven portfolio management and decision-making. A number of providers are doubling-down on the notion that IP portfolio analytics can serve a number of core operational objectives through the integration of contextual strategic insights into every day work processes. For example, graphical competitive landscapes, subject matter analysis, interactive mapping, and qualitative portfolio scoring all serve to make IPM "smarter," more agile and more accessible to more stakeholders.
We have seen an increased number of organizations begin to roll out KPI programs, with 2 in 5 legal organizations having defined and measuring at least few KPIs. Though spend analytics are, arguably, a very mature and sophisticated discipline in legal analytics (bolstered by roughly 15 years of e-billing data), we also have observed a deliberate shift of focus from traditional spend metrics to more operational categories: 44 percent of legal organizations rate internal process metrics as the most important metric they track. Yet IP and legal operations managers continue to suffer for the didactic and technological gaps that stymie the incorporation of operational KPI programs. Perhaps exemplified best in the sentiments expressed by IP operations executives, Fig. 8 below demonstrates a fascinating tension.
Fig. 8 Executive Attitudes
Though more than half of legal and IP executives feel confident in their ability to manage the entire IP matter lifecycle, fewer than a third of them feel they have the tools effectively use data for improved outcomes. We have found in our research that this is a common cognitive dissonance – "confidence" it seems, is less grounded, in this context, in actualized operational capabilities than generalized sentiments about the company's overall abilities to succeed and its confidence in the strength of its people and resources. Confidence is an esoteric benchmark. Generally speaking, operational performance management is far less mature in legal than in many other business disciplines. As Fig. 9 below demonstrates, the obstacles to reporting strike right at the heart of operational excellence – you can't master what you don't know how to measure. It is incumbent upon both the vendors and the operations managers to introduce their analytics capabilities into the critical path of attorneys and C-level executives. As a result, there is tremendous opportunity for analytics to continue to fundamentally shape the model of next-generation IPBM.
Fig. 9 The Major Obstacles to Reporting