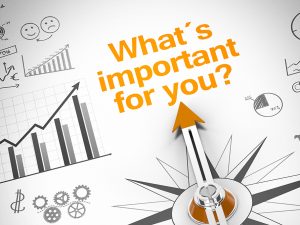 Insights Poll: The Process Stakes Have Been Raised
Spend Management Has Become Table Stakes – Process May Now Be Taking Center Stage
When it comes to analytics, the legal ecosystem as a whole spends an amazing amount of energy on understanding spend. In fact, Hyperion Research has found that 98% of legal organizations report on and consume spend management metrics; it is by far the most prolific and mature metric in legal. However, Hyperion's recent polling produced a surprising insight: when asked about what metric they deemed most relevant, only 9% of legal operations managers reported spend management. Is this some sort of cognitive dissonance?
To borrow a metaphor, legal department operations stakes have been raised. Watching over spend is now table stakes these days. All legal practices struggle with spend and are regularly challenged to justify costs and services. But monitoring spend, however macro or granular, is only one dimension of legal practice management, and both contemporary discourse and market research seems to be pointing at the limitations of spend management to help a legal department actually run.
Recently, we asked the Hyperion Research community, "What category of legal operations metrics is most important/relevant to you?" (Fig. 1). Surprisingly, a resounding 44% of respondents indicated the most relevant metrics were those concerned with process management and work efficiency! These numbers indicate that a strong majority of legal organizations are moving into a new phase of practice management.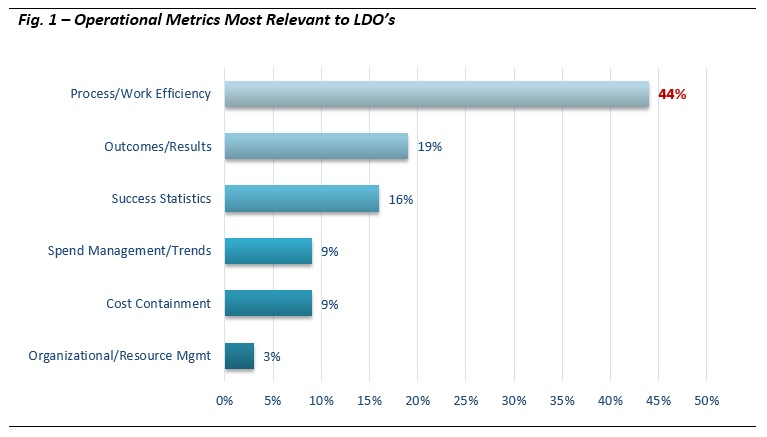 Spend management is fundamental to legal practice management, but we're encouraged at the rising appreciation that it's fundamentally a one-dimensional metric. This recent polling also demonstrated what we believe to be an important void: less than 1 in 5 legal operations managers prioritized metrics for outcomes or results, respectively. It's an indication that the focus on quality and outcomes continues to be missing from our collective calculus. But the shift from "what do spend?" to "is our money well spent" less leap than it is a process, as these results clearly demonstrate.
Just last week over 500 legal department operations leaders came together for the inaugural Corporate Legal Operations Institute to discuss myriad issues facing the modern corporate law department. The remarkable turnout is emblematic of a wide trend, and the professional discourse is increasingly focused on practice efficiencies and strategies for running a better and more effective legal practice.
These recent results also comport strongly with Hyperion's operational benchmarks. In our recent reporting on Innovation in Law Department Operations, 99% of legal organizations have budgeted for workflow and automation tools. More than 80% are seeking workflow-driven technology, and a compelling 42 percent are reducing paper in Paper-'Lite' initiatives. Process automation and workflow are not just sentiments; legal organizations are actively investing in strategies and technologies that support them.
If internal process management and the focus on how we improve the work we perform are so pressing, then what processes and improvements can we put in place? The question comes down to what is keeping you, the legal operations director, up at night?
Maybe it's questions about where to even start, like:
"I know we should be on an e-billing platform, but how do I find the right solution for my department?"
"I have documents everywhere – in Outlook, on my attorneys' computers, on a shared drive, on our peoples' desks – how do I wrangle this content chaos? Can I even think about managing everything in a single document management solution? Dare I even think of going paperless or 'paper-lite'?"
"I have an e-billing solution, but I can't ever seem to get answers to the questions Finance and the C-Suite are throwing at me. What can I do?"
"How can I get my valuable resources out of doing menial tasks and focusing on adding value to our work product, services, and relationships?"
Or perhaps you're asking nuanced questions, like:
"Are we tracking Value Added Taxes properly through our e-billing solution and managing a process for recovery?"
"I fear our information may be at risk for compromise – how do I establish a company-wide information governance plan with teeth?"
"How do I know I am covering all my cyber-security bases for compliance?"
Essentially, the question on peoples' minds seems to be moving away from "How much do I spend?" to a more introspective "how can I maximize my investments?"
The stakes have been raised for legal operations.