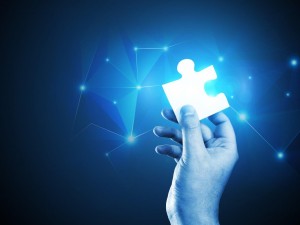 The Growing Importance of Legal Technology
February 23, 2015
Eyal Iffergan
Benchmarking, Corporate Legal, ELM, HGP Research, Insights, Law Department, Operational Performance, Practice Management, System Selection, Technology
The business-aligned model of Enterprise Legal Management requires a more sophisticated IT infrastructure. It also requires an improved attitude about the integration of technology into the day-to-day operations of the corporate legal function. Traditionally, law departments have been reticent to adopt the use of technology. However, as both the operational demands and a generational legal management changeover occur, we see attitudes and expectations about the role of technology shifting.
Today, managing counsel view technology as a critical, unavoidable enabler of success. Indeed, recent research we conducted on the attitudes of corporate counsel, for example, shows strong agreement with the notions technology does in fact drive improved performance, that attorneys are becoming more tech savvy and that management is recognizing the value of technology (see Fig.1).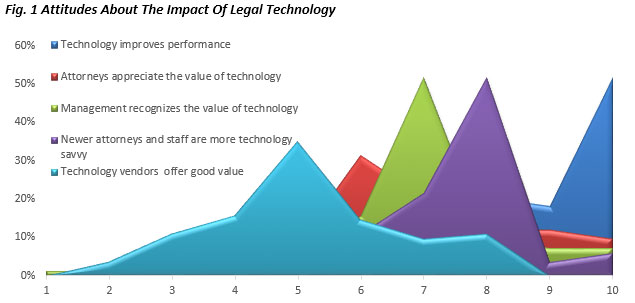 While law departments define a rich landscape of solution interests, they remain pragmatic in their technology investments. We find that senior attorneys can be particularly astute at assessing the value of technology to their day-to-day activities. As such, the law department's technology investment levels reflect the focus on productivity and quality improvements (see Fig. 2).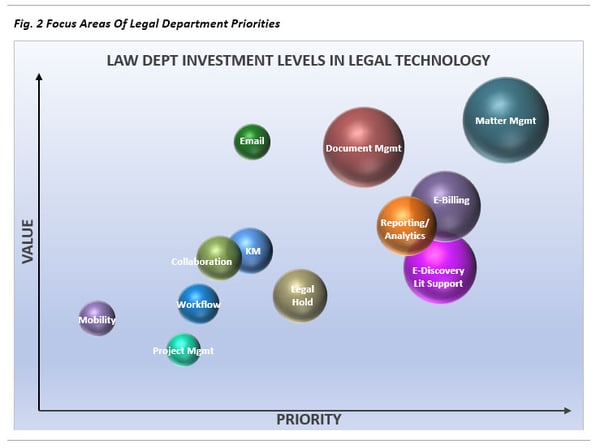 Interestingly, we find that the priority level placed by legal departments on e-billing and matter management investment levels has risen significantly since our last survey in 2013. As foundational systems capture and manage day-to-day work—most notably legal costs—these systems are critical to legal operations. Correspondingly, we see technology budgets allocated to these systems as departments continue to enhance capabilities and integrate to enterprise infrastructure. We also see companies making significant investment in next-generation ELM-capable systems. As departments continue to define their business objectives more clearly, we expect to see the relative value and priority of ELM solutions continue to improve. Mobility is a strong technology focus for our Global 1000 departments.
Legal IT is prioritizing its investment in mobility as the trend towards more distributed and flexible work environments becomes established (the "results oriented work environment"). From a vendor perspective, we see legal applications being adapted to support mobility, offering ample solution options. The increased emphasis on the ELM tool's adaptability seems to confirm that smartphones and tablets are not merely the legal professional's gadgets de rigueur, but have rapidly established themselves as critical productivity tools.
Legal professionals seeking productivity improving tools have been quick adopters of mobile technologies. In a recent survey, we found that 91% of legal organizations support mobile devices in some way. Law firms were much more active in adopting both smartphones and tables (76%); while corporate law departments appear to lag in the broader adoption of mobile solutions (32% reported that they either support only BYOD, or neither smartphones or tablets.) (see Fig. 3)

A number of other technology solution areas remain on legal IT's radar (see Fig. 4). Collaboration continues to receive significant discussion as an important component of both internal work relationships (i.e., between colleagues and business clients) and outside service partners. A continued emphasis of investing in cloud-based, hosted solutions is also driving investment. In fact, collaboration and cloud-based solutions received the strongest rating in research we conducted recently, as reflected in Figure 4 below: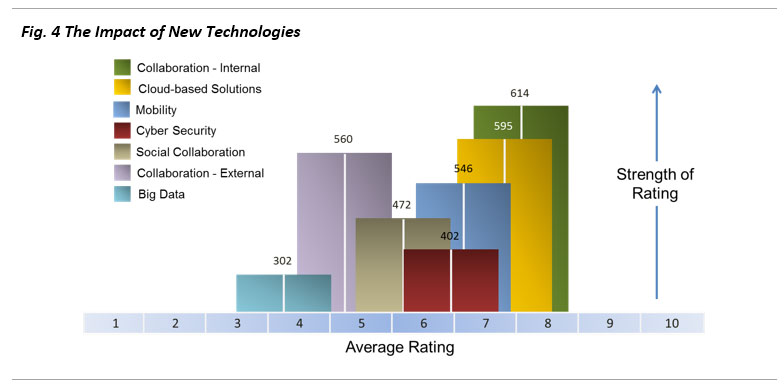 At the lower end of the investment curve, a number of solutions nevertheless continue to receive attention. Search and analytics are component tools that support a broad range of other solutions, meaning our respondents clearly recognize them as high-value needs; yet the medium-to-low priority rating reflects the recognition that these solutions are nascent. As the department's capabilities and availability of compelling technology remain relatively low, we see departments cautious to invest. However, as vendors continue to invest in the sophistication of "Big Data" analytics, including business intelligence graphics, benchmarking and the ability to retrieve spend data at granular, customized levels, we expect that spending on these component tools will increase.
Also receiving less of legal IT's attention are the traditionally recognized areas of project management and knowledge management. While respondents rated these lower on the value and priority scale, our sense is that this reflects the perceived utility of technology (or lack thereof) rather than the underlying importance of these disciplines themselves. Legal project management and knowledge management are well-recognized management practices, yet most attorneys feel that these are primarily process-driven activities, with a relatively light technology component. Despite significant vendor investments in new product offerings, law departments have made relatively modest investments in specialized solutions. We expect that new technologies in such areas as social media and enterprise content management will likely subsume large aspects of project management and knowledge management.