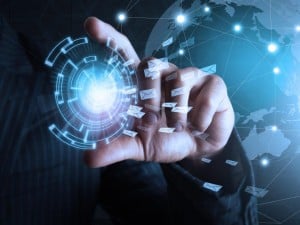 ECM: A Paradigm Shift for Legal
February 15, 2016
Eyal Iffergan
Business of Law, Cloud, DMS, Document Management, ECM, Enterprise Content Management, Enterprise Legal Management, Insights, Legal Technology Paradigms, Paper-Lite, Transformation
Hyperion Research's proprietary VPI InfographicTM (Fig. 1) charts industry-wide trends and attitudes about key ECM capabilities and competencies. It represents a competency matrix that plots perceived value against stated priority for a variety of technology capabilities; the size of the bubbles represent relative levels of investment in each respective category.
For 2016, the ECM VPI InfographicTM illustrates a paradigm shift in legal toward the enterprise-wide management of content.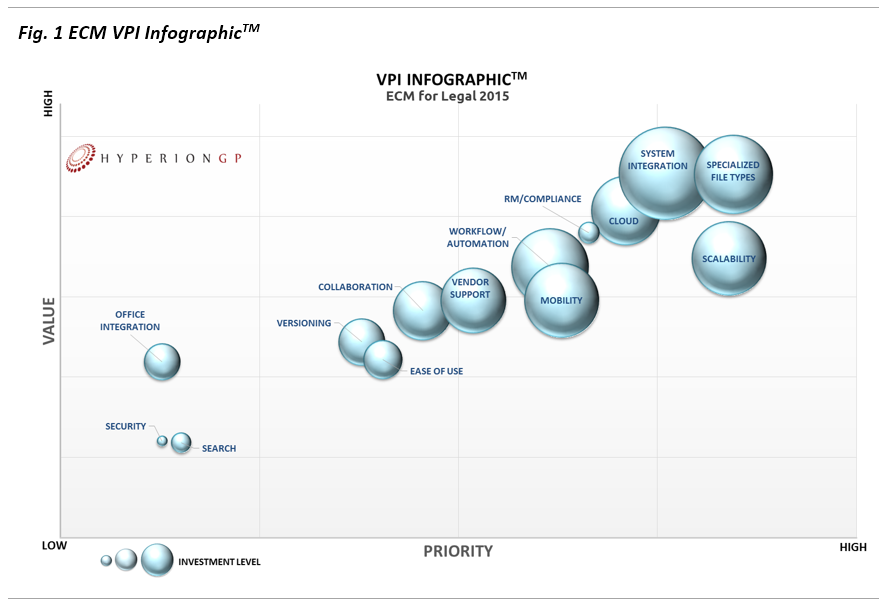 Core Capabilities Still Lacking
Legal organizations are clearly and deliberately placing a premium on legal ECM features and functions that allow users to manage more content more broadly. The VPI Infographic's two highest-ranking disciplines – support for Specialized File Types and System Integrations – speak directly to the basics and the consistently perceived lack of support among existing solution providers to adequately address the current needs of users. Supportive of the research that demonstrates the expanding definition of content – and the prevalence of content beyond Word, Excel, PowerPoint and PDF – users are embracing social, rich media and unstructured content; this trend will grow, not reverse. Practice management systems are core work product systems, and yet enterprise DMS integrations have consistently been either non-existent or lackluster. High is the dissatisfaction among technologists in systems' capabilities to understand and manage content wherever, whenever and however it is created, shared and managed. More poignantly, the workarounds created as users seek their own ways to manage and share content easily expose a distinct point of risk for legal organizations.
Process and Content: Coming Together
Closely related to the appetite for robust and powerful system integrations is the high investment in workflow and process automation technologies. Information sharing, routing, control and management are at the heart of content management, and process automation allows organizations to automate tasks, as well as to codify policy and procedure in the form of process integration and control. These capabilities are now considered critical to enterprise information management. Thus, legal organizations are actively seeking solutions that directly address these historical deficiencies in integrated approaches.
Cloud Rising
A desire to manage the proliferation of content across the enterprise and beyond the firewall drives the strong interest in Cloud. Cloud certainly is increasing in favor. As the third-ranked functional capability overall, we see the acceptance and favorability of cloud-based DMS signaling a shift in thinking about the nature of content for legal professionals; that shift is cautious, measured and gradual, as we discuss further below.
Content Security: The Forest for the Trees
Surprisingly, while professionals and technologists alike regularly cite Security as a top concern, in our research it does not rate especially high in terms of real investment by legal organizations. Legal organizations are valuing and prioritizing security at among the lowest levels, a veritable affront to conventional wisdom. However, the data exposes an important distinction: "Security" as a competency seems to be definitively focused on tools and technologies that drive network security, and not document/content security. This distinction, we believe, is critical, as it shines a light on a clearly overlooked and misunderstood context for organizational risk exposure – the content itself.
From the perspective of network security, despite an attraction to the "hybrid cloud" implementation models, the majority of managed data is nevertheless expected to remain on-premises. Privacy concerns and fears of compliance risk continue to keep the migration of sensitive or potentially sensitive information toward external servers limited. Even so, the contrast between the high-profile dialogue about security and the threats to data exposure and leakage, and the tepid investment in content security systems and tools demonstrated in our research is quite compelling.