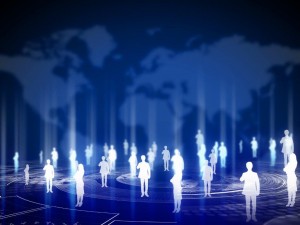 Dynamic Sourcing: Creating a Multi-Source Enabled Environment
Most corporations have well-established capabilities in multi-sourcing. While lagging their functional colleagues in the adoption of multi-sourcing, the law department is now quickly catching up. Nearly half of Global 1000 law departments reported that they have implemented Shared Services Centers (SSC); with an additional 25 percent having evaluated them (see Fig. 1).
To the benefit of law departments, most corporations today have a significant amount of experience with SSCs in such areas as finance, HR and IT. These same disciplines, albeit in a different professional context, can be readily adapted to the legal function. Of those who have adopted SSCs, administrative-related activities proved to be the "low hanging fruit." By removing low-value, time consuming repetitive tasks, professional staff (including paralegals), law clerks and attorneys, are able to capture significant productivity and quality gains. Our early benchmarking suggests that SSCs could potentially drive as much as 25 percent in productivity improvements.
As law departments gain success in shared services, they are applying alternative sourcing approaches to more complex processes and functions. The burgeoning legal services market is quickly evolving to support these new approaches. While law firms still serve as core service partners, legal process outsourcing – a form of BPO – has grown to become a significant element of the legal services landscape. Our research has shown that over three-fourths of companies have used some form of LPO (see Fig. 2). Their use, however, remains cautious.
The majority of LPO has been in project based work, where managing counsel are able to maintain closer control. The broader, and arguably more valuable, programmatic outsourcing has lagged (35%), as companies seek to gain experience, and for LPO providers to mature. Early adopters such as General Electric, Microsoft and Rio Tinto have proven to be useful case studies in elucidating important lessons learned in building programmatic LPO. Intellectual property, contract management and certain regulated industries (such as insurance), have found early success in outsourcing processes to dedicated partners.
Litigation support, particularly e-Discovery, is the largest service segment in LPO. The model of outsourced litigation services is often a hybrid of project and programmatic-based. Corporations continue to work through their outside counsel but with the use of various LPO providers on a case-by-case basis.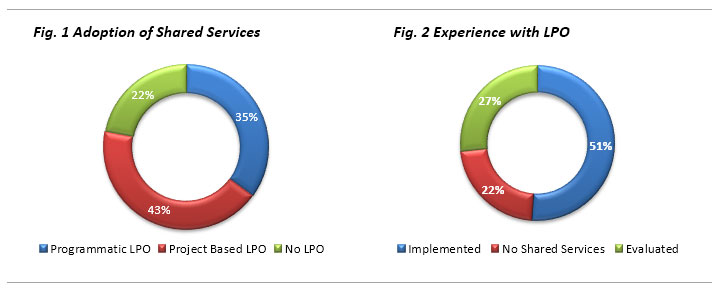 Technology is a critical enabler of the multi-source environment. Given the law department's historical lag in technology adoption, it is perhaps not surprising that system capabilities are relatively underdeveloped as relates to multi-sourcing. Document management (DMS) is a foundational component of multi-sourcing, yet only about half of departments report having a true DMS systems; with almost a quarter with no means for DMS. We find that other enabling technologies are also deployed at similarly low level, such as scanning / RMS (57%), electronic work rooms (40%), workflow (30%), messaging (25%) and video conferencing (25%). It is important that departments deploy supporting IT systems to ensure that shared services, LPO and other multi-sourced work approaches are successful.