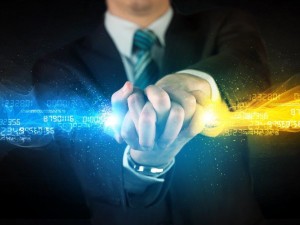 Despite Broad Adoption of DMS, Challenges Persist
Document management systems (DMS) are well-recognized as one of the highest priority solution areas for law firms and corporate law departments. DMS sits at the core of how legal professional create, manage and use their work product, and how they collaborate among colleagues, clients and outside partners. Representative of its importance, our research has shown that DMS is relatively well-established in both law firms and law departments. Almost 80% of legal organizations report that they are using some form of system-based DMS; of DMS-enabled organizations, 65% report that at least half of their professionals are using the system.
While broadly deployed, DMS nevertheless presents a number of challenges to organizations seeking to optimize their electronic document management (Figure 1). The lack of required functionality (70%) is found to be the most widely cited issue; while usability challenges including DMS not being integrated to how users work (68%) and difficulty finding documents (64%) are critical issues. Interestingly, the lack of attorney use—an oft-cited challenge—is generally not found to in fact be a primary issue.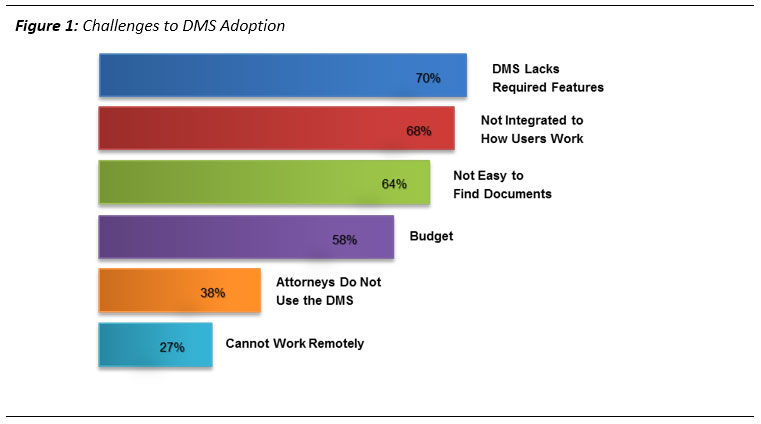 For many firms and law departments, shared network drives remain an important aspect of the electronic document environment.
The persistent use of simple shared directories highlights the challenges of DMS.
We find that for certain categories of users, shared drives are considered adequate. These users fundamentally miss the value promised by the more advanced DMS solutions, where they opt instead for the decidedly low-tech but easy-to-use approach. However, continued use of shared directories—particularly in today's content intensive legal environment—raises not only administrative and operational costs, but also significant professional risk. The migration from a shared network repository to a true DMS ultimately becomes as much about change management as the selected technology. When pursuing DMS as a replacement for shared file directories it is critical that firm management consider a number of key factors, including:
Content volume and file types
Operational systems and other applications
Access requirements including office locations and remote accessibility
File compatibility and conversion, particularly between versions
Common use cases for content creation, use and management
Records management requirements
Retention policies and governance
As users and legal IT managers continue to push the need for improved DMS capabilities, more than 80% of law firms and corporate law departments look to upgrade or replace their systems in the next 12-24 months (Figure 2). In part, this high volume of activity can be attributed to a number of new product upgrades from the leading vendors. Additionally, we find that many organizations have delayed their technology investments over the last 3-5 years and are now evaluating new systems.
The introduction of new internet based solutions, and the need for more sophisticated workflow automation are also important drivers of new system evaluations.