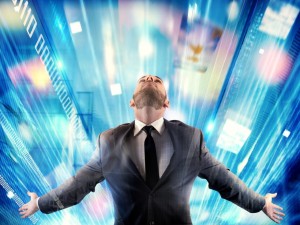 Deconstructing Content: The Long Arm of ECM
The need for more sophisticated decision-making and policies around content management highlights the importance of a simple threshold question: "How do we define content?"
While quasi-structured content like email vexes legal technologists today, entire modes of unstructured content lie on the horizon to challenge our understood notions of "content."
Legal IT executives have an ever-expanding menu of content types and repositories to weigh and consider.
These include:
The growth of social media as both a primary and reference content repository
The capture of rich media, audio and video content
The use, proliferation and increasingly relevant business context of SMS messaging
Cloud-based repositories – Box, Dropbox, One Drive, Sugar Sync, Google Drive, and other cloud-based document storage, sharing, and backup services
Shared and local drives – the institutionally sanctioned reliable standbys and stalwarts of "content chaos"
Microsoft SharePoint sites, which, by their very nature, propagate vast repositories of unstructured and uncatalogued content
Matter Management and e-billing data – unstructured electronic manifestations of all legal work ever performed!
Containers, including compressed file archives
Beyond defining "content" is the challenge of how to actually track and capture content. Legal technologists must be concerned with not only the litany of channels for "information leakage," but how to navigate this broad and complex web to ensure the organization can reasonably and confidently capture, leverage and maintain institutional knowledge. As gleaned from the chart in Fig. 1, below, a broad menu of options for sharing documents exists, creating a continuing – perhaps troubling – inertia.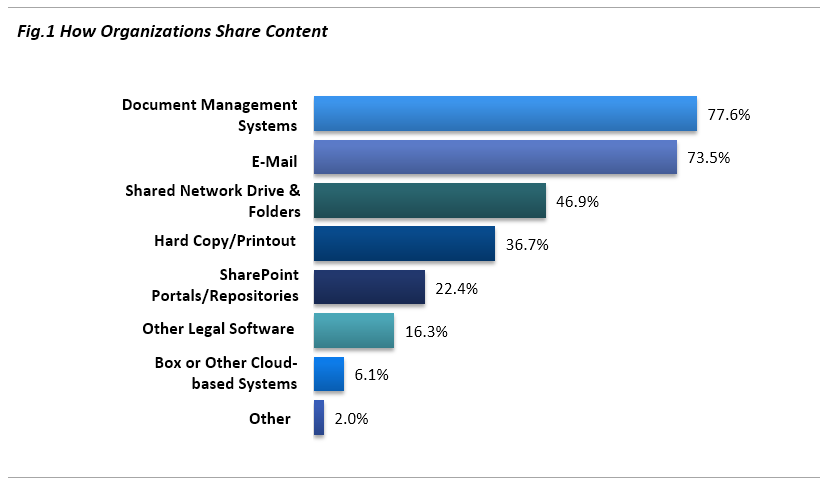 While nearly 78 percent of legal professionals report using their document management system to share documents, nearly as many, 73.5 percent, also use e-mail, demonstrating e-mail's omnipresence for both content management and collaboration. Additionally, nearly half use shared network drives and folders. Both of these channels, though not at all surprising, are widely acknowledged as inappropriate tools for content management. In addition to their propensity to become unwieldy, unsearchable, difficult to manage, and lacking in any content management capabilities, such as version control and profiling, they also present a compliance and control challenge unique to legal: the significant potential to compromise confidentiality and privilege.
The chart, though, also reveals the growth of more and more progressive content management conduits. Nearly 39 percent use collaboration software or other enterprise software such as matter-management systems, indicating a growth in both the understanding of these systems' content sharing and collaboration capabilities and the criticality of their presence at the center of business process.
Cloud-based document storage and sharing applications present an interesting new dynamic. 6 percent of legal professionals report using Box, Dropbox or another Cloud-based storage system "officially" (we suspect, anecdotally, that the number is in fact higher). The ease of use, accessibility, and easy integration with local and mobile systems make them popular personal choices, particularly in the absence of suitable enterprise solutions. While we fully expect this demographic to grow, fueled no doubt in part by marketing efforts specifically targeting legal professionals, we find this to be a dangerous and noteworthy trend.
Though cloud-based document repositories are convenient and easy, they are most assuredly not legal ECM systems and present notable compliance, audit, records management, and legal hold/discovery challenges, not to mention the constant threat they pose to institutional content leakage.
The wide array of personal and professional information sharing tools illustrates the need to adopt use paradigms to allow attorneys and their clients to work together as they need—and supportive of the variety of manners in which they do. We call this challenge the "long arm of ECM," and Fig. 2 demonstrates the challenging array of content types, locations and repositories a modern enterprise ECM approach must "touch" and master.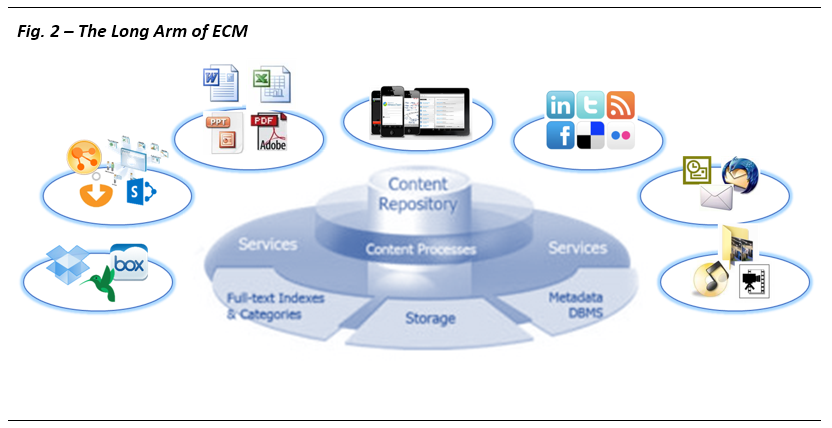 The ECM paradigm also illustrates the broad need for organizations to provide ways to connect and integrate the many tools professionals use with ECM systems – both as a matter of technology as well as process. This is important because, though ECM tools are designed specifically to capture content, manage and control it, they also serve to help organizations apply policy and comply with business, ethical and regulatory requirements. The ways in which an ECM system and its support operation can help an organization reach content in all its various—and expanding—forms and points of origin stand as key differentiators for clients to consider.