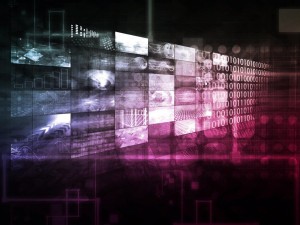 The Continuing Reality of Transformation for Corporate Legal
Corporate law departments are in the midst of an active period of transformation. Driven in large part by the new demands on the General Counsel, today's law departments are expected to serve a business function, as much as they are their traditional legal roles. From 2010, when we first endorsed the term Enterprise Legal Management, ELM has become a recognized management discipline and a strategic objective for corporate law departments.
Today's corporations—including the law department—are under a seemingly continuous state of change. Transformation is the ideological approach to deconstructing and reimagining how an organization works. As General Counsel have faced substantial changes in their corporate role, and the legal profession more broadly, most corporate law departments have undertaken transformation initiatives aimed at improving operational performance. Indeed, in our recent study of Global 1000 law departments, 75 percent reported that they have executed at least one significant project in the past 24 months.
Among law department peers, many face similar challenges and drivers of change. Improved legal spend management, more successful legal outcomes and higher value contributed to the business are well-recognized strategic objectives. The tactics to achieving these goals, however, can vary substantially from company to company (see Fig. 1). Yet budgeting and spend management (80%), reporting legal performance (72%), and process standardization (70%), are near-universal focus areas for transformation improvements. These correlate well with management's keen focus on legal spend and productivity.
Another critical area for legal operations is the working dynamic and processes between in-house and outside counsel. Given these close working relationships, the combination of improving work efficiency and optimizing the number and use of law firms are highly cited objectives by Global 1000 departments. Instituting panel-counsel programs in which firms are pre-qualified is an often-discussed practice, yet we consistently hear managing counsel express disappointment as the realities of inflexible standards leads to low compliance. Too often, exceptions become the norm, leading to ineffective control. A number of new models oriented towards standards, sometimes with recommended but not mandated firms, have proven better suited to the day-to-day needs of corporate law departments.
Fig. 1 Focus Areas For Transformation Improvement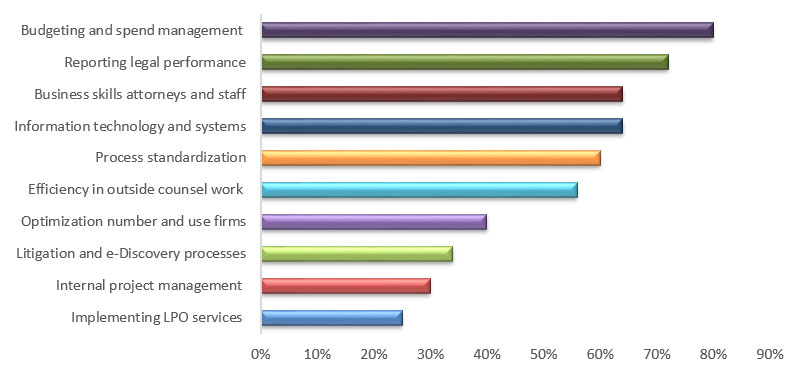 In the overall transformation program, the development of attorneys' business skills is a key focus for law departments. While identifying and managing risk remains critical, attorneys must advise from the perspective of business rather than purely legal outcomes. Departments increasingly look for more business-oriented education and career experience in their staff, including MBAs. In addition, attorneys and staff receive continuing education in business subjects, not just traditional CLE. Perhaps most effectively, attorneys are working directly, side-by-side, with their business clients gaining exposure to R&D, manufacturing, sales and marketing and finance.
Legal as a Business Function: The Evolving Role of Corporate Legal
As corporations face ever-increasing business, legal and regulatory complexity, the legal function is no longer limited to law suits, contracts or other purely legal matters. Indeed, corporate counsel is taking an increasingly strategic role in the overall scheme of general business management. From our survey of Global 1000 law departments, a vast majority (85 percent) agreed with the principle that enterprise legal management is driving the legal department to operate like a true business function.
In this complex, multifaceted legal management environment, we see the law department working more collaboratively and directly with its business clients. A significant number of our respondents (60 percent) reported that they have a centralized organization structure (see Fig.2). Of these, however, most assign attorneys to specific business clients. This model allows controlled structure and consistently applied operations, while at the same time fostering closer working relationships to the businesses.
Where specialized expertise is required, such as intellectual property, departments may organize distinct practice groups; but here, too, we see attorneys assigned to business clients based on domain knowledge and specialty. Ultimately, legal departments that report the highest success in working collaboratively with their business clients cite a combination of working structures and the business skills of their legal professionals as critical success factors.
Fig. 2 Structure Of The Legal Function