Hyperion Research is preparing to release our MarketViewTM Report: Document Management Systems for Legal, updated for 2015. As a high priority solution area, DMS is critical to how legal professionals create, manage and use their work product. Our coverage focuses on core document management capabilities, with a view of the broader context that clients are seeking from solutions that address the array of specialized content management needs, including structured and unstructured content.
The report includes a detailed review of both market participant and advanced solution vendors, and is an excellent starting point for evaluating current systems and new system selections.
Our recent Hyperion Research benchmarking has illuminated many critical path trends and developments in the space, including a paradigm shift toward the enterprise-wide management of content. We'll report on all of this in the forthcoming report, but wanted to offer our Research Members a sneak peak at our proprietary VPI InfographicTM, which charts industry-wide trends and attitudes about Value, Priority and Investment in key ECM capabilities and competencies.
We think you can study this chart for hours!
Our initial conclusion is that legal organizations now place a premium on features and functions that allow the users of legal ECM systems to manage more content more broadly.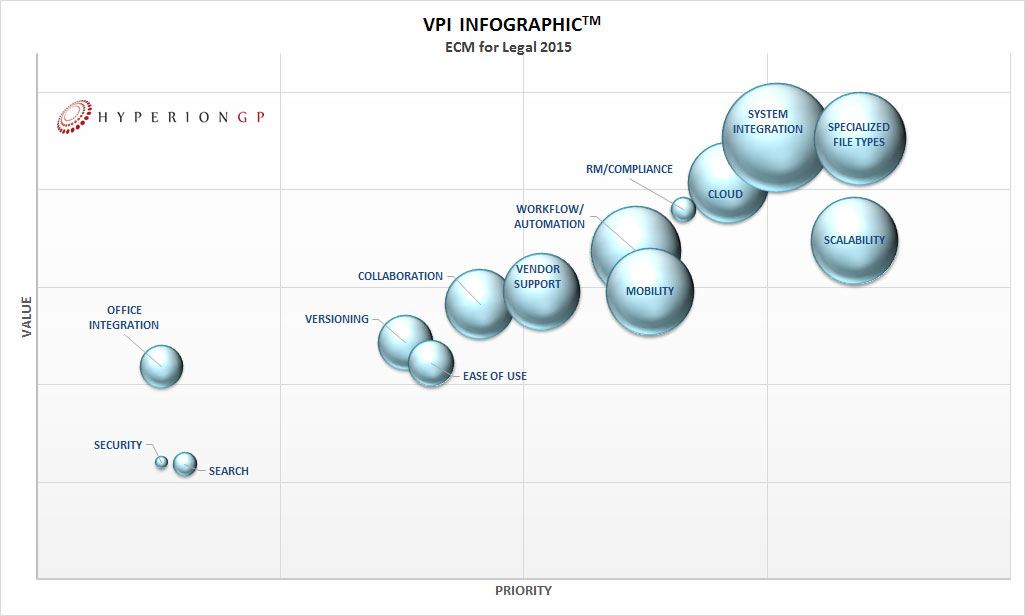 Some early findings to ponder and ruminate:
Despite all the rhetoric, the actual value and priority ascribed to DOCUMENT security is low, low, low! This is backed up by spend. We think this also speaks to the narrow thinking about security – and the focus by administrators and professionals on NETWORK security over content governance.
Records Management and Compliance are highly prioritized, but spend on – and implementation of – information governance-related competencies is not aligned with the importance ascribed to the discipline.
The highest ranking discipline – support for specialized file types – speaks directly to the basics – and the consistently perceived lack of support among existing solution providers to adequately address the current needs of users.
Cloud is certainly increasing in favor. As the third-ranked category overall, we see the acceptance and favorability of cloud-based DMS to signal a paradigm shift for legal.
Of course, there's so much more, and a significant amount of data behind this VPI InfographicTM. We're excited to bring you the full report this month!