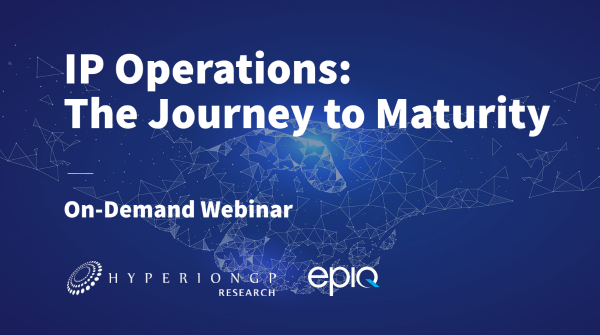 Foundation of IP Operational Maturity
April 21, 2021
Hyperion Research
Intellectual Property, IPM, Survey, Hyperion Insights, IP, LegalTech, Global Thought Leadership, IPBM, Legal Operations, IP Management
The days of a siloed legal team managing a docket are long gone. The enterprise expects IP Operations groups and legal ops teams to be aligned with the broader business. Designing a path to operational maturity requires understanding the foundations of IP Management and leveraging the three cornerstones of the IP business model – People, Process and Technology.
The following transcript is an excerpt from a 50-minute conversation on IP Operational Maturity with Phil Henderson, Senior Director at Hyperion Research and Rupert Mayer, Executive Product Evangelist at Clarivate. The live webinar, IP Operations: The Journey to Maturity, took place on March 30, 2021 and is now available on-demand.

Phil:
There are a lot of different IP Management maturity models out there. You can go to CLOC. You can go to ACC. I don't think that there's any right or wrong answer on what is Maturity. The models all generally have some similarities. I'm an old timer, we go back in time, to the very, very early days of IP, people were still using 3 by 5 note cards. We would probably describe that as relatively immature and then fast forward. Today we've got the opportunities to be much more mature with technology, we've got the ability to have workflow tools, we've got integration with data, etcetera.
What I've found, and I'm interested in your thoughts on this report, is that, very few organizations are at the enterprise capability or the optimized scale of things. Most organizations fall somewhere in the continuum. Again, there's no right or wrong. Every organization is on the journey towards optimizing. What are you seeing in the market?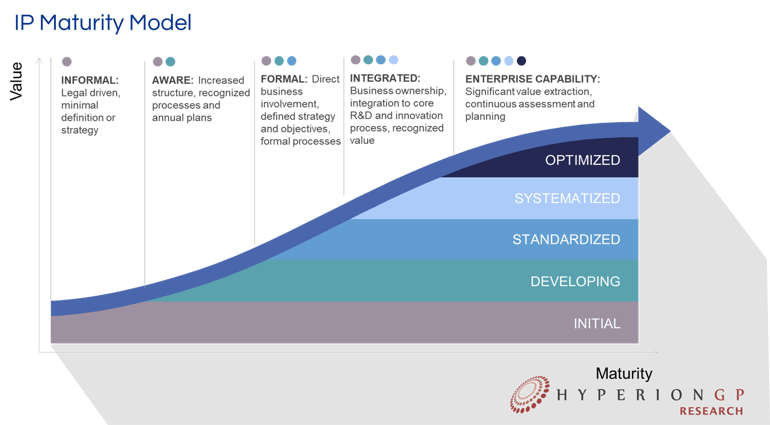 Rupert:
Yes, I would agree. I mean, there's certainly a trend toward more formal process, more targeted IP management, to be more data driven, a lot of companies aspire to that. Overall, the IP management discipline, and probably comparing it to other disciplines of corporate management, still has a ways to go. So there's still lots of opportunity in terms of maturity.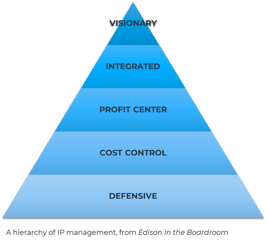 It strikes me that the model also reminds me a little bit of the Edison Pyramid. If you remember Edison in the Board room, they also had five levels, and it was a little bit of a different angle equals more from, I think, how the company gives this IP Overall. It was defensive cost center, a profit center, and then number four was also integrated, and five was, I think, visionary.

I talked to the authors at some point, and they also said, "Well, the visionary category, there's, there are maybe a handful companies in the whole world could aspire to be at that peak". So I think it's good if these models are aspirational so it gives people a lot of room to grow.

Phil:
Definitely agree. One of the things that we're seeing and it's starting to raise as a differentiator amongst organizations, is the, the level of integration of either the IP operations team or the legal operations team with the business.
As organizations deploy the technology and the processes and the KPIs and metrics to start to put together a continuous improvement operation they're becoming more aligned with the operational capabilities of the broader business. We're starting to see that the business in turn, is expecting more and more from the IP groups and from the legal operations team, which then reinforces the need to invest in systems and processes.
That it's a kind of a long-winded way of saying that the enterprise is expecting, or is raising the bar, on the IP groups to deliver more value and to be more accountable for what they are doing. The days of just being a siloed legal team that manages a docket are long gone.
Rupert:

Absolutely. Yes, I remember experiencing, when I came from the law firm to the corporate world, that especially the smaller IP departments, they seemed like they were very, very siloed within their organizations, or even within the legal department, in their own tools, and their own, don't touch me we are so special IP is so special, and I think there is now pressure from the outside, or legal to become more integrated, or IP, becoming more integrated into the overall legal operations.

But also IP within itself, if I remember a decade or two ago, with, even with large corporations, the disciplines of portfolio development, IP strategy, and then IP search used to be very, very siloed. When you talked to the dockeing people they had no idea what the search people do, what strategy people do. And I think that today, all these these areas, as a sub disciplines of IP management, also becoming more inter-connected.
---
Watch the full webinar:
About the Presenters:
Phil Henderson, Senior Director at Hyperion Research, an Epiq company. Throughout his 30 year career, Phil has worked with many of the world's leading IP teams to implement transformation programs, helping them align IP processes with business objectives and deliver new levels of operational maturity.
Rupert Mayer, Executive Product Evangelist at Clarivate. Rupert has been active in the field of intellectual property management software for his entire entrepreneurial career, which he started in 1999 by developing the first commercial docketing system for Austrian IP law firms. Today he is a member of Clarivate's Product leadership team, responsible for creating a unified product strategy for the IP Group.