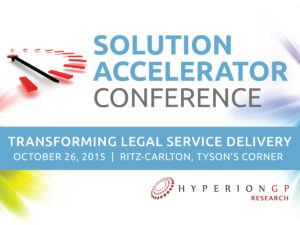 The Fall 2016 Solution Accelerator Conference
Hyperion concludes another successful Solution Accelerator!
Hyperion was proud to conclude last week's one-of-a-kind event – the Solution Accelerator Conference – to great success. The one-day conference delivers unparalleled access to industry leaders, solution providers, innovators and best practices in a single, unified, highly-interactive forum focused on success in Legal Operations and Performance Management.
Unlike typical professional conferences or trade shows, the Solution Accelerator Conference is laser-focused on sharing and learning about the tactical, real world best practices that lead to success.
A Showcase of Leaders
A focused and highly curated event, the Conference offers unique, direct and private opportunities to meet with and experience the market's leading and most innovative ELM, IP, ECM, Enterprise Information (EIM) and Analytics Solutions!
Participants represented some of the world's leading global organizations, and lauded the conference for its substantial presentation and peer engagement that will directly impact their day-to-day work processes and operational improvement initiatives.
At Hyperion, our team works tirelessly to develop innovative concepts and compelling content – aligned to our expertise model – that truly engages our clients, prospects, partners and the community.

To all those who gave the generosity of their time to participate, engage and share with us, we know your time is often your most precious asset, and we deeply appreciate your trust in Hyperion to help you use it well and to great effect.
Conference Highlights included:
Nearly 50 invitation-only attendees from all over the world in a highly-interactive thought leadership forum
Fortune 500 and AmLaw 100 representation
10 industry-leading Solution Providers for software and services
4 distinct Solution Spotlight sessions
5 interactive Solution Dialogs
Several networking events, including breakfasts, lunches, cocktail mixers and dinners.
A Showcase of Thought Leadership
The Fall 2016 conference was showcase of thought leadership in legal performance management, analytics, and operational excellence. Conference participants were enthusiastic and vocal about the compelling content and thoughtful dialog. We're proud to provide below access to the Event's Solution Dialog thought leadership presentations.