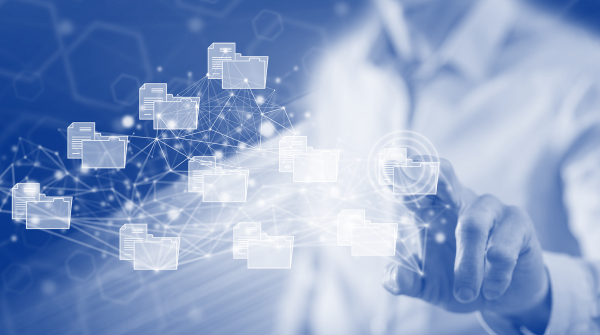 Enterprise Content Management; The State of Play
Legal teams continue to face a growing number of content management challenges, accelerated by the Coronavirus pandemic, which produced a seismic business continuity wake-up call. With the sudden need for secure, reliable remote workspaces, the virus added additional stress to infrastructures already reeling from an explosion in quantity, type and importance of content. These challenges have ushered in a new wave of critical technological advances.
The term of art Enterprise Content Management (ECM) now represents this expanding discipline of content capture and management previously known as document management (DM).
In a few years, Legal's requirements for ECM have blossomed into a complex electronic ecosystem that not only requires mastery of the ability to securely manage, store, and collaborate on content, but also delivers an integrated solution for advanced workflow and content security for a remote, distributed workforce.
Exploding Volume
Hyperion Research's benchmarking demonstrates that nearly half of all legal organizations now report electronic document repositories exceeding 1 million documents under management; ECM vendors have observed that much larger document stores of 5 or 10 million documents are no longer unusual.
Organizational Volume of Electronic Documents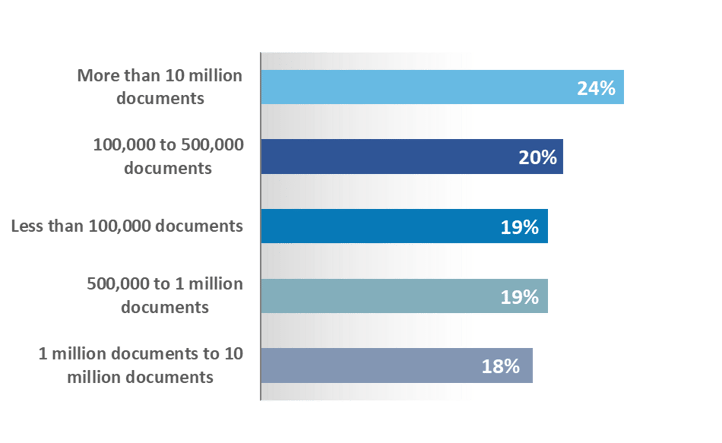 Expanding Array of Content Types
The increase in volume is noteworthy, but the importance of managing a growing array of different content types represents the major foundational shift that has taken ECM beyond the reaches of traditional document management. Each content type has a unique set of attributes requiring different treatment.
One example of this can be seen with the evolution of e-mail management. Even today, some content management systems treat e-mail just like any other document, albeit with a .msg extension. While this facilitates rudimentary capabilities for archiving and retrieval of email, it fails to recognize the distinct attributes that differentiate e-mail from all other forms of content, including core metadata for Senders (From field), Recipients (To, CC and BCC fields), Subjects and send/receive dates; plus, email attachments and embedded content; contacts and contact attributes; and security apparatus such as digital signatures and authenticity validations.
Evolving Ecosystem

The modern ECM system depicted above has evolved to master a complex and demanding array of content types, locations and repositories. The pervasive challenge of ECM is to provide ways to connect and integrate the many tools and processes professionals use with ECM systems. This is important because, though ECM tools are designed specifically to capture, manage and control content, they also serve critical roles in helping organizations apply policy and comply with business, ethical and regulatory requirements. The ways in which an ECM solution and its supporting framework can help an organization reach content in all its various—and expanding—forms and points of origin stand as key differentiators for clients to consider.
Today, Enterprise Content Management is recognized as an important subset of an overall model of practice management known as Enterprise Information Management (EIM). The EIM model addresses the processes, competencies and information architecture of a legal organization as it governs, controls and secures the enterprise-wide flow of information. The EIM model below is aligned to the unique requirements of the legal professional's environment.
Model for Legal-Oriented EIM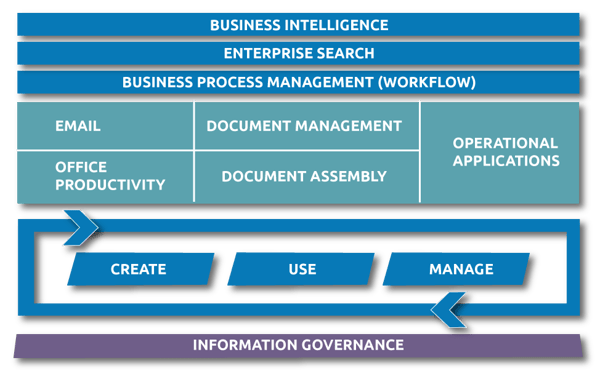 As the model demonstrates, organizations are challenged to effectively capture, store and manage their electronic information, including both structured and unstructured data. EIM aims to address these challenges by implementing a top-down strategy that aligns the multi-faceted ways an organization utilizes information. With the rise of digital transformation, electronic information is treated as a valuable company asset, similar to how a business views its products, software and intellectual property.
Evolving Priorities
With legal professionals gradually embracing ECM systems, Hyperion Research's proprietary VPI Infographic™ below highlights the current industry attitudes about key ECM competencies. This matrix maps perceived value and priority for a variety of technology capabilities; the size of the bubbles contextualizes these capabilities by representing relative levels of investment in each.
ECM VPI Infographic™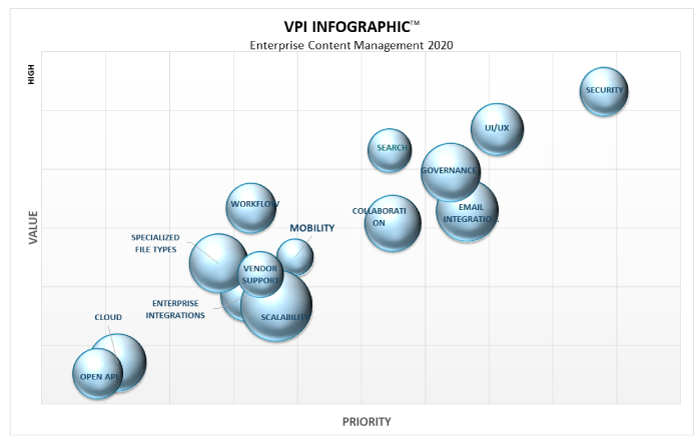 In previous studies, the two highest-ranking disciplines (upper right quadrant) were "Support for Specialized File Types" and "System Integrations"—two core features that had consistently been shortfalls of leading solution providers. This shortcoming for legal ECM coincided with a time when content was expanding dramatically, particularly during the burgeoning use of social, rich media and unstructured content. Users were seeking their own ways to manage and share content easily, posing a distinct risk for legal organizations.
In recent years, we have seen solution providers improve both their support for a variety of file types and offer sophisticated system integrations, addressing many of the industry's earlier priorities. Our research now shows that clients place the highest value and priority on data security, user-friendliness, search functionality and e-mail integration, respectively. This shift in industry priorities exemplifies the fact that solution providers have made progress in addressing requirements and adding capabilities, but a key question remains: why isn't ECM adoption rising more quickly?
This question and more will be addressed when this series continues over the coming weeks.
---
Hyperion Research will be conducting another deep study and analysis of quickly evolving ECM practices and solutions later this year. To be included in the benchmarking study and receive notice of the next ECM MarketView report, provide your contact information here.