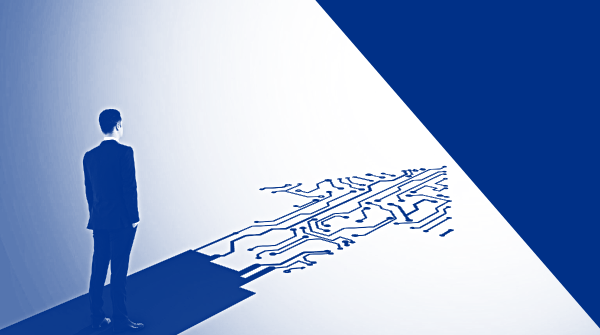 Contract Management; Advice for Your Transformation Journey
The road to Contracting Transformation is difficult, especially in technology selection and implementation. In this final installment of the Contract Management Insights series, we share 10 tips for preparing for a successful contracting technology journey. This includes practical advice on where to start in a phased deployment approach to ensure that your most pressing issues are addressed first (hint: it's not necessarily at the beginning of the contract lifecycle).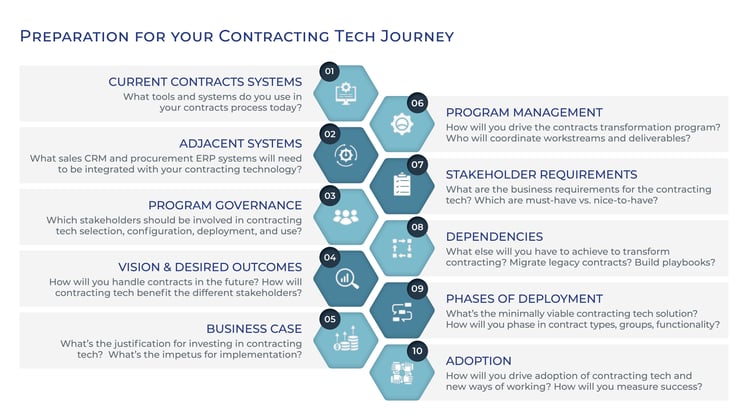 1 | current contracts systems
Map out the tools you use in your contracts process today. It's important to know what you're starting with, as well as where you'd like to get to, so you can describe gaps and figure out how and when to bridge them. Don't make assumptions – map out the current state thoroughly to avoid discovering unmet needs upon implementation of a new system.


2 | Adjacent Systems
Figure out systems that need to be integrated. Streamlining/automating cross-functional processes, smoothing hand-offs, and keeping an audit trail, are compelling reasons for deploying a CLM solution. Integrating using pre-built-APIs from vendors help you get value from the CLM quickly.


3 | Program Governance
Identify the stakeholders that should be involved in different departments. The CLM selection and deployment should be cross-functional, involving many departments. A Contracting Transformation needs a Core Team, Steering Group, Advisory Group and Champions.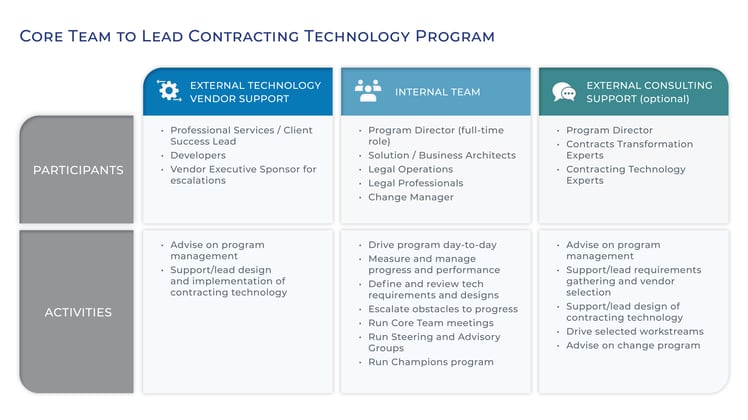 The Contracting Technology Program Manager will need to build alignment on funding, requirements, software selection, design, implementation, and adoption of the contracting technology. They may also need to discuss the right organizational structure for handling contracts. By planning all meeting agenda in advance, the Program Manager can ensure that the Steering Group and Advisory Group stakeholders attend only relevant meetings to save time and avoid "too many cooks in the kitchen."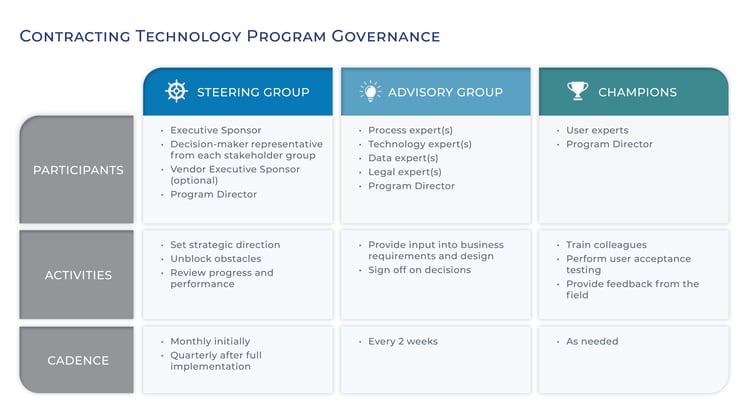 4 | Vision & Desired Outcomes
Describe how you will handle contracts in the future and how contracting technology will benefit different stakeholders. Start with an honest assessment of the current situation and a realistic outline of the desired future state, addressing:
Scope of contracts work. Segment volumes by complexity. You may want different contracting solutions (people, processes, technology) for routine vs bespoke.
Contracts policies. Decide where to get rid of contracts altogether, and which types could be self-service.
Storing and profiling. Decide on profile data for easy reporting / retrieval (e.g. value, purpose, status, key dates).
Service level agreements. Address imperatives to improve service, reduce risk, or lower the cost of handling, given your risk profile and budget.
Resourcing. Define the contracts organization and the needed skill sets. Consider a center of excellence; and whether all contracts should be drafted / negotiated by Legal or if some can be handled by another group, e.g. Procurement, using approved templates and playbooks.
Standard contracting process. Define hand-offs and how to make them seamless.
Dashboards, reporting and alerts. Determine data needed to support decision-making and where in the process it should be captured.
5 | Business Case
Describe and quantify the justification for investing in contracting technology.
Your case for investment in contracting technology will typically cover an overview of the current situation, why you need the technology (how you'll use it and what the benefits will be for the organization), a rough implementation timeline, and a cost-benefit analysis. We provided lots of fodder for assembling a business case earlier in this series.


6 | PRogram management
Name the program lead and develop the plan for driving the contracting technology program forward. Contracting is a cross-functional process involving Legal, Compliance, IT, Finance, Procurement, business requestors, etc. Assign a Contracting Technology Program Manager to define the program, develop a roadmap, and create a detailed program plan.


7 | stakeholder requIREMENTS
Decide on requirements. Highlight the must-haves that need urgent attention. Ask the different stakeholder groups open-ended questions to capture true business requirements, rather than specific technology features. Get a sense for which are the most urgent to solve vs nice-to-haves. It's rare to find software that can solve every business requirement you identify, so ranking your priorities is key.


8 | DependeNCIES
Align on the dependencies to navigate alongside the Contracting Technology Program. You may need to coordinate with related initiatives, such as COE formation or legal contract migration, to ensure that process/workflow design and critical routing matrices fit together well in the envisioned future state.


9 | phases of deployment
Define the phases for onboarding new functionality, business units/functions, contract types, geographies, languages. Our experience shows that trying to do everything all at once is a bad idea. If you work in a large company, think of the program as an 18-36 month undertaking.
Given the multiple facets of contracting, Technology Programs legitimately have any number of points of entry. To help you sequence your roll-out, we have provided some illustrative scenarios to suggest starting points, bearing in mind that you can start at the end – the repository.
MOST PRESSING or HIGH-IMPACT ISSUE
STARTING POINT

"We spend hours searching for our executed contracts and, in some cases, we never find them"

Single Repository Initiative.
This is a common problem and a popular starting point because it's discrete, relatively straightforward, and doesn't necessarily need a big investment in technology first.


Gather all executed contracts
Develop/refine the data model – what data do you want to capture about the contracts in order to find them?
Decide on the right single temporary or permanent repository
Migrate the contracts and data to that single repository. (Once they're in one place with structured metadata, the contracts can relatively easily be migrated to a new repository in the future)

"All the information about how to negotiate our agreements is in Jane's head. If anyone has a question, they ask her. If she got run over by a bus, we'd be in trouble."

Playbook/Clause Library Initiative. Though work on templates, playbooks and clause libraries can take time, it can be easy to launch because it doesn't require technology to start, it's clear that Legal owns the work and – depending on who handles the contracts – there are relatively few stakeholders involved.


Pull together the playbooks / standard clauses that already exist (often on individual legal professional desktops)
Design the structure / format of the playbook/clause library
Populate the playbook/clause library using legal expertise
Assign owners to playbooks/clauses
Train on the playbook/clause library
Audit and enforce use of the playbook/clause library
Set cadence for playbook/clause library updates

"It takes anywhere between one day and two weeks for Legal to turn a basic NDA around. We're trying to sell our products. By the time the NDA arrives, the client's gone elsewhere"

Self-Service Contracts Initiative. This takes time to set up, but once it's launched, it removes low-risk work from the Legal Team.


Revisit contracts policy and decide which contracts have the right risk profile and complexity level for self-service
Define self-service – what's in scope, what's out of scope
Describe the self-service process, including escalation triggers and path if the contract needs to be negotiated
Develop a questionnaire to identify the right template and pre-populate the self-service contract
Select and configure self-service process/technology (this is a standard feature in CLM solutions)
Run business training
Design reports on self-service contracts
Audit self-service contracts and run targeted training where needed

"We submit a contract request to Legal and then we have no idea where it is in the process. Is it lost in the ether? Have they started on the request? Will it take a week? Six weeks? I have to keep chasing them to find out."

Automated Workflow Initiative. This fixes the visibility pain point for business stakeholders who need contracts and also lets Legal measure contracting performance


Understand current process from intake through execution and storage
Streamline the process where possible
Build workflow into CLM tool
Design email alerts and reporting dashboards for requestors and Legal
Train users on CLM
Enforce use of CLM
Calibrate performance and potentially set SLAs
Identify and fix process bottlenecks


10 | Adoption
Plot out the roles / approaches to ensure stakeholder adoption. You will need success stories early on. Find the most frustrated business stakeholders who are pressing for change, because they will create your proof points and become the champions who drive adoption.


Conclusion
We often see skipped steps leading to stalled tech roll-outs. The project timeline and governance structure should continue long after initial deployment. As the Starting Point suggestions explain, the "end state" is a transformed contracting program – but you should not start by deploying expensive, end-to-end technology and tackle the entire lifecycle at once. Prioritized requirements should drive your technology selection and sound change management should inform your implementation plans.
The Hyperion Research 2023 Contract Management; Advice for Your Transformation Journey Whitepaper is available here for download.