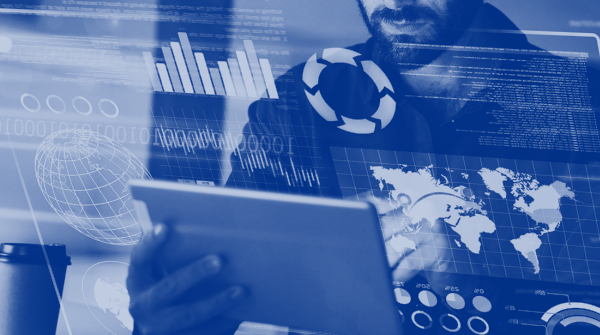 Contract Management; Making the Business Case for Investment
Contracting is a team sport. A well-designed enterprise contracting capability knits together multiple departments (and their supporting technology systems) so that contracting is conducted with full knowledge of the extent of the corporation's relationships with suppliers, customers, and partners (including those with multiple roles) across the enterprise. In this scenario, the company acts upon obligations proactively, executes quickly, and manages risk efficiently and effectively.
With digitization, contracts become sources of structured data, which can be harvested and analyzed. Systems integrations are critical for the transfer of data, not only to move things along, but to provide insights to support decisions and prompt timely action over the course of a business relationship. Contracting technologies offer data to Legal leadership that has been unobtainable historically. With contracting technology in place, GCs can contribute data and insight to corporate strategy, rather than being confined to the siloed perspective of risk mitigator (aka "barrier") and cost center.
That said, we can't ignore cost when assessing contracting technology. Critical to obtaining support and budget for contracting solutions is developing a business case that contains reasonable and tangible benefits, justifying the investment. You will need to obtain the baseline for critical metrics and put a value to the future improvement. Once the solution is deployed, you will need to capture actual data to prove the return on investment.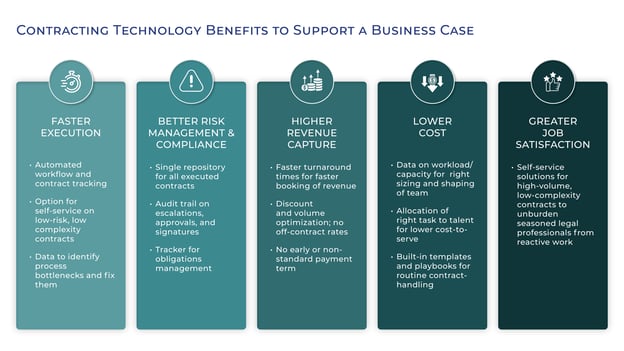 To aid making the business case, we have identified 5 benefit categories in which there are specific ways contracting transformation can help (some of which are easier to estimate/measure than others):
Benefit

Ways Contracting Technology Can Help

FASTER CONTRACT EXECUTION

Reducing handling times through higher quality structured requests, plus easy access to related contracts, standard templates, and playbooks/clause libraries
Automating workflows with smoother handovers (e.g., standard intake questionnaires to identify the right template and route the request to the right person, with built-in escalation, approval and signature matrices)
Actively tracking contracts through the process – for the business requestor and the negotiating team – with alerts for the person on point for next steps
Enabling self-service for low risk, low complexity contracts with guardrails
Providing visibility into capacity and workload for better assignments
Using data on turnaround and handling times to identify and fix workflow bottlenecks over time
Identifying terms that are always negotiated and redrafting standard terms to reduce the number of turns on a contract

BETTER CONTRACTING RISK MANAGEMENT & COMPLIANCE

Easily retrieving all contracts, tagged with their important characteristics in a "single source of truth" repository
Aligning to corporate taxonomy, rendering data consumable outside of Legal
Understanding relationships by establishing parent-child hierarchies to identify full sets of related agreements
Making data on clause positions (e.g., force majeure, assignment/novation) readily available when needed
Capturing important data elements (e.g., renewal date) for reporting and alerts
Using standard templates and playbooks/clause libraries to consistently enforce company positions
Easily updating templates and playbooks/clause libraries if there is an important change (e.g., new regulation, new corporate policy)
Exposing audit trail of the contract creation process with escalation, approval, and signature confirmations
Tracking obligations and avoiding breaches
Enabling prompt billing for speed to revenue and faster payment to earn discounts according to contractual terms
Reducing work at risk (no legally binding agreement) and improving revenue recognition via consistent clauses

HIGHER REVENUE CAPTURE

Taking a more strategic, partnership-focused approach to contract negotiations supported by visibility into multifaceted relationships
Maximizing discounts of both buy and sell side, avoiding any off-contract rates
Improving tracking of outbound licenses and full recovery of royalty stream (in concert with IP Department)
Booking revenue earlier through improved turnaround times
Avoiding auto-renewals to renegotiate rates
Reducing time to FDA approval for clinical trials at life sciences companies, leading to earlier revenues and more time on patent
Identifying lost opportunity for capital (paying too early) and managing non-standard payment terms

LOWER COST CONTRACTING

Getting right work into right (less expensive) hands through standardization and centers of excellence for routine agreements
Using data on throughput and contract types to right size and shape contracts team
Achieving better cost-to-serve metrics for contracts (buy and sell) by allocating the right resource

GREATER JOB SATISFACTION

Legal professionals can focus on (and be motivated by) their highest and best use while reactive, high-volume, low-risk, low-complexity contracts are shifted to self-service or more junior resources through the use of standard templates and playbooks
You can find more information about CLM and CA investment and market trends in our previous post: Contract Management; Still a Hot (and Fraught) Technology Market.

In the next installment of this series, we will take a deeper dive into two of the key dimensions of value in contracting transformation – using actionable insights through analytics and lower cost models.