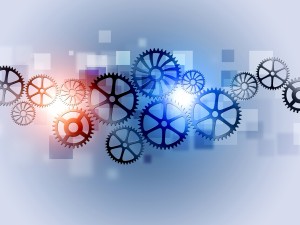 Automation Tools are Critical Enablers of BPM
As law firms work to implement and master their BPM initiatives, automation technologies are considered a critical enabler. Historically, firms have largely implemented process automation through their core legal applications and embedded "workflow" features in such areas as practice management, document management, or time and billing systems. These workflows were often disparate and disconnected, focusing on specific processes—they accomplished a specific purpose but did not deliver benefit from a more holistic and integrated approach to process optimization.
While these legacy systems continue to exist, many law firms are beginning to adopt enterprise-oriented solutions. Over one-fourth (27%) are now using an enterprise BPM solution, and an additional 38% are resorting to a customized approach.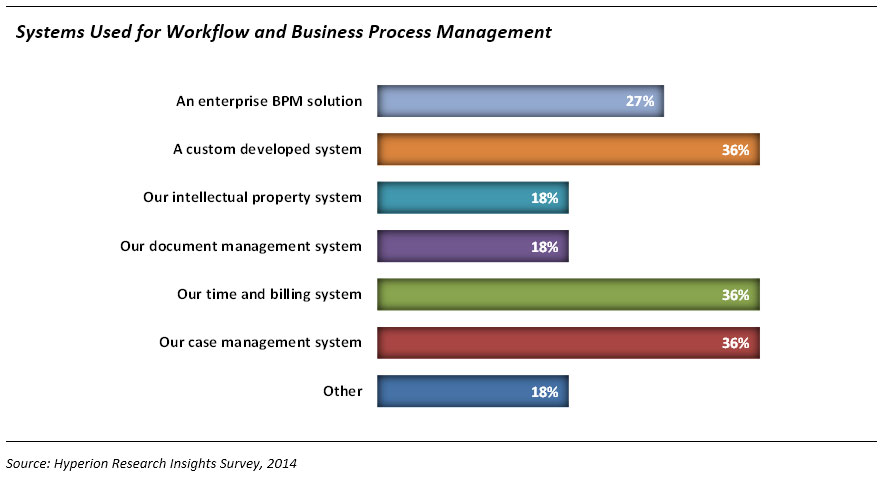 Increasingly, as firms strive for more sophisticated process management, many are evaluating stand-alone enterprise BPM applications. These solutions are separate from application-specific workflow features and offer advanced capabilities that go well beyond the embedded workflow tools found in core legal systems such as financial and case management solutions. These dedicated BPM solutions are able to automate existing applications, as well as manage workflows across otherwise disparate systems. Importantly, these enterprise solutions also include process modeling and analysis capabilities, as well as the ability to quickly and easily change processes without the disruption sometimes experienced in more rigid application based workflow tools. Additionally, the advanced auditing capabilities of these systems allow for much greater risk mitigation and coherence to firm policies and procedures.
Meeting the Unique Requirements of Law Firms
While the capabilities of an enterprise BPM solution are attractive, there are a number of unique law firm-specific considerations that must be closely evaluated. In working with our law firm clients and the legal community, we have identified the following special law firm factors:
Legal Practice Guidelines – as a closely regulated industry, the legal profession is bound by a myriad of rules and restrictions on how their business must be conducted—all of which must be considered in designing, implementing and using automated work processes. These include such areas as attorney-client privilege, privacy and confidentiality, HIPPA, unauthorized practice of law, intellectual property controls, court / judicial rules, ESI, etc.
Practice and Office Organization Structures – although law firms are beginning to function more like corporations, their legal, business and operational structures remain more highly segregated than corporations. While process automation can remove unnecessary barriers, certain separations are important, desired and, in some instances, legally required.
International Practice Considerations – law firms are increasingly extending their international reach, either formally through global offices, or less formally through affiliations and co-counsel work arrangements. The international dimension has its own unique legal practice rules and organization structure considerations, including multi-currency requirements, OFAC and money laundering regulations, and their associated processes.
Accounting and Financial Controls – unlike other businesses, law firms have unique and stringent accounting and financial regulations that drive special considerations in managing certain processes. Client funds, expenses, billings, fee arrangements, etc. all require particular handling in the law firm context, including potential differences on a state-by-state and country-by-country basis.
Importance of Microsoft Technology – the legal technology market, and particularly law firm technology, is dominated by Microsoft software. While non-Microsoft applications exist (e.g. Java EE-based solutions), BPM solutions based on the Microsoft platform and with tight integration to the Microsoft Office Suite have a significant advantage.
Garvin Fouts is a Managing Director of Hyperion Global Partners, a premier global business and technology consultancy, specializing in working with law firms on the path to process efficiency and realize the value of process automation.